Gina Hollister Took Back Control of Her Life, and YOU can do it too!
"I'm excited for what the future holds for me."
Life faces us with challenges that sometimes leave life looking pretty blight.
This planet is full of people who are struggling in one way or another. The only way to get past these challenges is by truly wanting change and taking the steps to do whatever it takes to make it happen. Gina Hollister has struggled with weight her entire life, and truly wants her journey to be proof that,
"Just because circumstances seem bleak and you can't hang on any longer, that's when you reach deep inside of you and strive to make a change. There is always a chance of recreating your life as long as you are still breathing."
Gina's weight was always an issue for her and got even more out of her control after she had children. It wasn't until she lost the two most important men in her life that it spiraled so out of control and she no longer had any grasp on how to fix the problem. 12 years ago, Gina lost her father and promptly gained 30 lbs. 5 years later she lost her best friend and father of her children and gained another 100lbs. She fell into a deep depression and began having major health problems.
"I hated myself. I hated who I had become. With every health issue that could arise I would pray for death."
After being in ICU for her health issues, the Doctor told Gina she wouldn't live another 7 months if she did not lose the weight she gained. Gina knew after that, death was imminent if she didn't take action, she did not want to die. She still had more to do and to live for on this earth.
Gina always dreamed about surgery but was unconvinced it would work for her. She learned about Pompeii through her niece that had the surgery in 2017. She was very scared and consumed with what-ifs, but she would definitely die if she did not have the surgery, so with that realization she made the leap. From the initial phone call to the recovery Gina had zero complaints.
"After seeing all I went through, my daughter has decided to have surgery as well and there is nowhere but Pompeii that I would trust with her life."
In our society, we are all about food, and there isn't much emphasis on healthy eating habits and portion control.
Gina touched in her interview on how our Industry "Thrives on, and sells magic pills to the consumers that produce little to no results all for the sake of money."
Regarding her own personal journey, for her the hardest part is the mental aspect. She realized how her weight gain truly happened and has guilt over the lack of healthy eating habits affecting her children.
"I have had guilt over the years telling my kids to finish everything on their plates, knowing now I put too much food on their plates, to begin with."
Gina had the Vertical Sleeve Surgery and had 75% of her stomach removed. As most of Pompeii's patients report, her recovery was great, and it shocked her at how amazing and pain-free she felt afterward. She enjoyed being pampered by the staff, and she was filled with nothing but hope for her future.
"When I returned home after a few days I realized I already lost 26 lbs."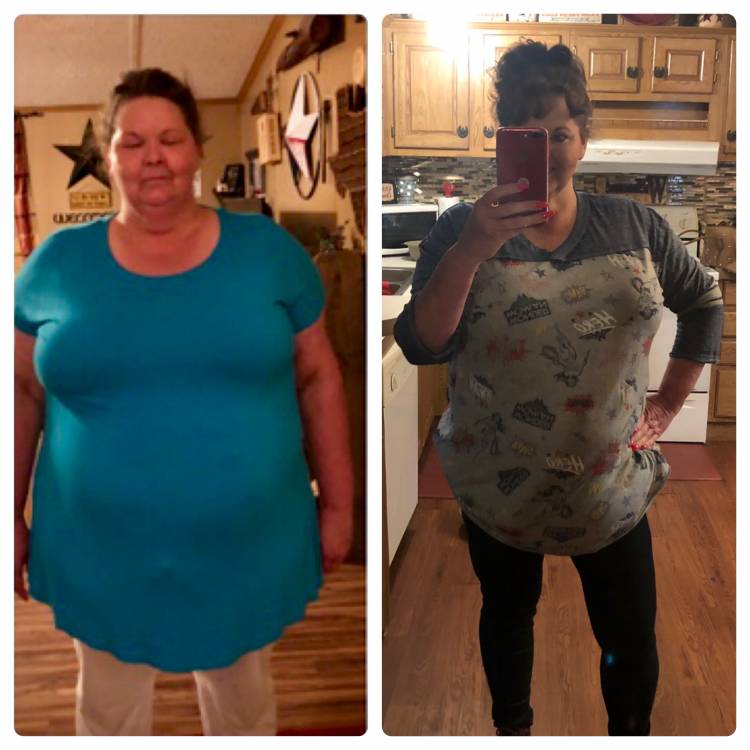 Although she still monitors her blood pressure, she is completely off of all her medications and has more energy now than in the 20 years before the surgery. Gina weighed 325 lbs. when she went in for surgery, and now weighs 211 lbs. She feels like she can enjoy life again, and do all of the things she couldn't do before, which includes skydiving. One of the most popular bucket list items.
"The most important part of my story is how God will send people into your life at just the right time. I believe Pompeii was sent into my life at just the right time when he knew I needed to make a change. This surgery wasn't an easy fix. I can't even begin to explain the difference that this surgery has created in my day-to-day life. I feel better, I look better and every day I strive to do better and be a better person. For the first time in years, I am excited for what the future holds for me."
Gina's story is one among many stories of successful weight loss surgery experiences out there. It is so important to take a serious inventory of your life and see if you are truly happy. If you, like Gina, and like countless others, have struggled with your weight for years and can't seem to lose the weight and keep it off, there are options for you. Gina, after taking the step toward having this surgery, and taking back the control of her life, should be a story of inspiration for anyone who thinks they don't have a way out of the hole they are in. You too can be happy, healthy, and excited about life again, all you need is to take that step.