Esther Rios is Finally Feeling Happy, and Able to Participate in Life Again.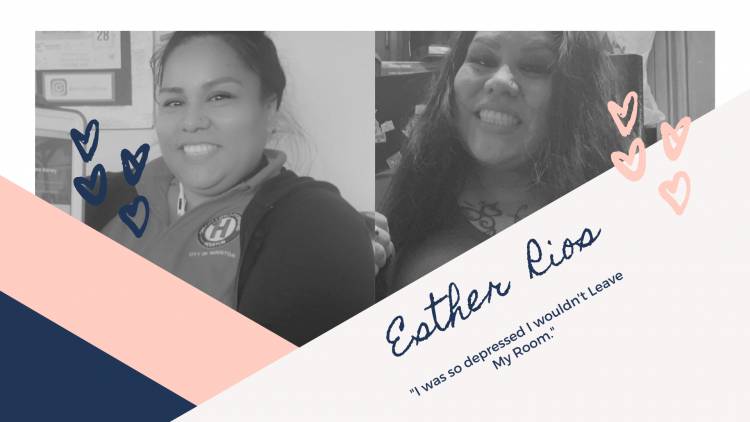 It is hard to see yourself as anything other than what people say about you at times, but it is near impossible when the person you love, the one who should be building you up, is doing nothing but breaking you down. ZRO TOLERANCE was in a verbally abusive relationship for years and is just now seeing the damaging effects to her self confidence that stems from the verbiage used to tear her down during those years.
"I have struggled with my weight for years. I have always felt like I was bigger than most girls, and I was in a bad relationship with someone that when we would fight always called me fat and constantly put me down and said I was too big to wear certain things and it just completely broke me. It took me years just to get out of that relationship, and it's been a few years now since then, and I'm starting to find myself, and I didn't realize that I let myself go, and that's how I ended up here now."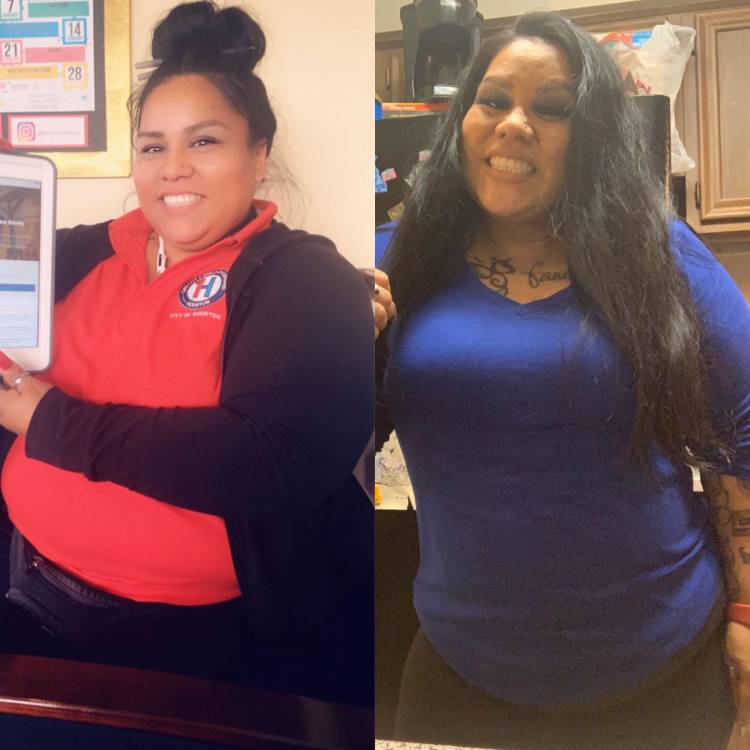 ZRO realized that during these years, her weight was becoming more and more of a problem. During that time, she not only was gaining weight because she was so miserable in her situation, but her boyfriend was doing nothing but making her feel even worse for the issues she was already feeling poorly about.
"I got so depressed that I wouldn't come out of the room. I lost myself and ended up gaining about 75 pounds, probably 50 to 75, from just binge eating and crying, then feeling horrible, then just not caring. The more I felt fat, the more that I was told that I was fat, the more I ate, and the more I acted like I didn't care. Inside I was dying, and I was doing more damage to myself and didn't even realize that I was so big."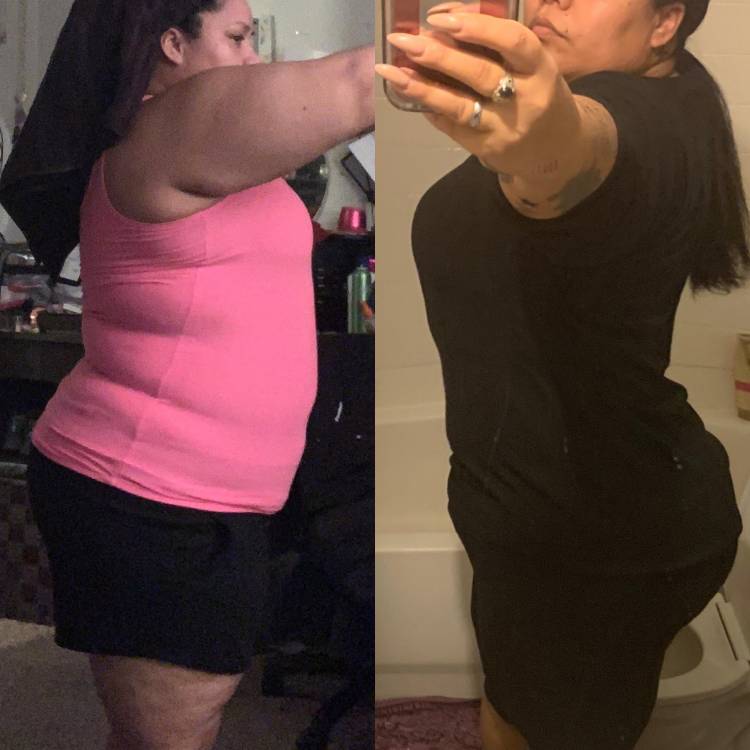 ZRO feels she lost out on a lot of memories she could have been having, not just due to her depression and unhealthy relationship, but also because of her feelings about her weight gain.
"There are so many things that I wish I would've done that I didn't because of my weight—not taking pictures. I don't even have memories of my granddaughter's first three birthdays. There are a few pictures in there that I had to crop, but I don't have many memories of the past three years. I don't have any pictures with my kids. I have pictures of them, but I don't have any of us all together, and I was supposed to take family pictures. I've been postponing that for three years now because I always said I was going to lose weight, and I don't. I was weighing 300 pounds, so I couldn't take pictures. That's the one thing that hurts me the most that I'm so ashamed and embarrassed to take pictures!"
Embarrassment about being in pictures is such a common thing when you are self-conscious about your appearance, but that doesn't make it any less challenging to deal with. The action of not participating in photos doesn't seem like a huge issue at the moment, but years later, knowing there are no pictures of you with the people you love can be like a punch in the gut.
ZRO tried everything she could think of to lose the weight that was creating such an issue in her life and her relationships.
"Before surgery these three years that I have gained all the weight, I have been on so many diet keto diet products. I mean ADVOCARE, Herbalife, it works, the wraps, the tea, the drops, the shakes, Adkins. I tried everything. I tried going to the gym, and I couldn't do it. I would last maybe ten days, 13 days 14 days, and then I would fail. It was just so hard the 2/3 pounds that I lost I would gain double back in a week or less! I have spent thousands of dollars on diet products and pills and over-the-counter and colon cleanse pills, and it's just such a waste. I actually have a container that I still keep that I have a whole lot of products, even boxes that are not open with products of stuff that I've ordered online that I've tried that didn't work!"
ZRO's health was on a decline as well.
"At this point before surgery I was prediabetic, I had thyroid issues, I had sleep apnea, I had a fatty liver, then I had enlarged liver. I also have IBM. I've had low iron and had to have a colonoscopy. I had terrible heartburn etc. the list goes on and on!! But when the doctor told me prediabetic that's when it really hit me! I've lost a lot of family members to diabetes and I just refuse to have diabetes!"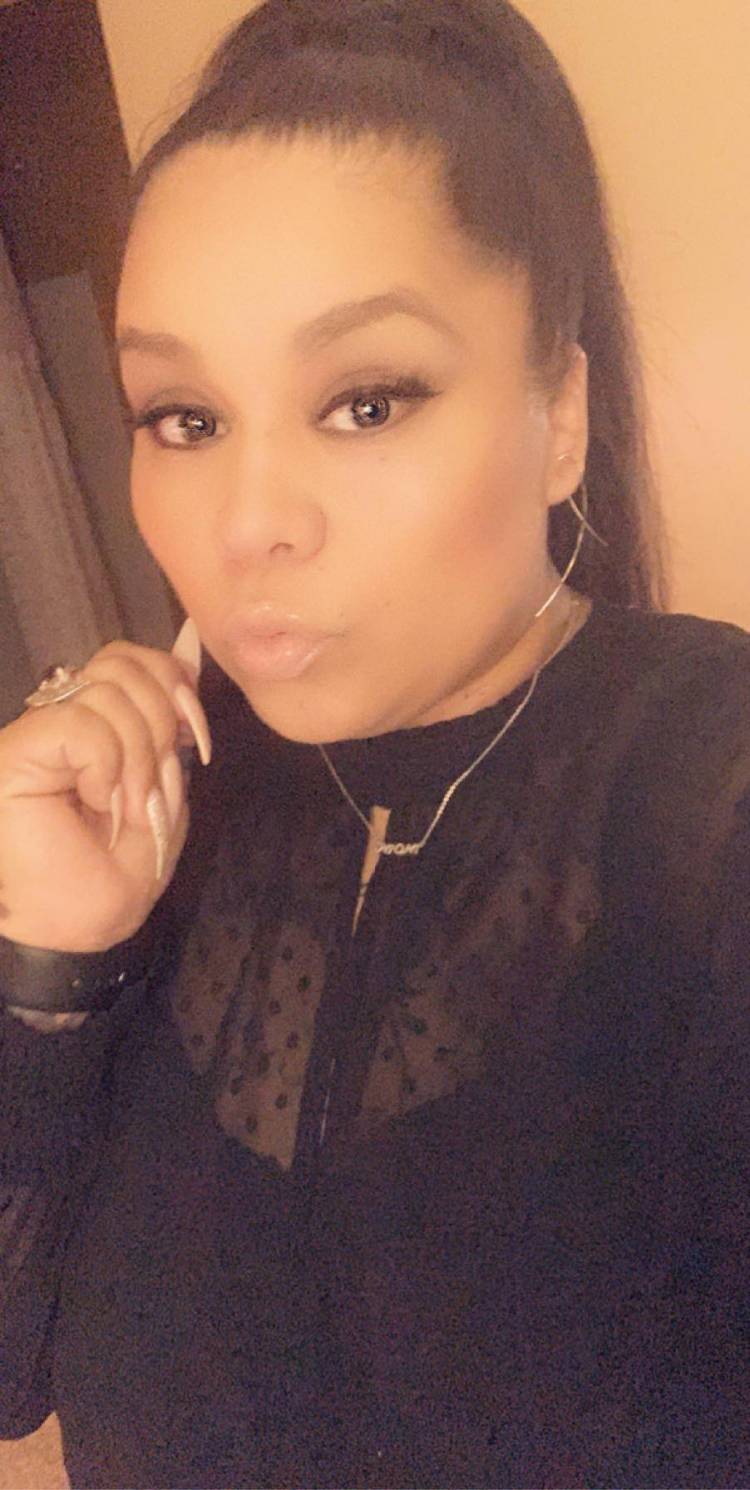 ZRO heard about Pompeii Surgical through a friend who had the surgery at the facility, and her Doctors discussed with her that bariatric surgery might very well be the best option for her at this point.
"My Doctors suggested to maybe read on it in and think about it that they think this might be something that would benefit me!"
ZRO had already had enough of the life that she had been living and just wanted to get on a healthy path so that she could enjoy life again. This was only one more affirmation in that direction.
"There are a few things that made me realize enough is enough. When my doctor said that I was prediabetic after they took my gallbladder out, every doctor that I would go to would say something about my weight. I didn't realize I was almost 300 pounds, and it was one health issue after another. I've lost people to diabetes, so that was a tough hat for me and really scary.
I started going to church and I started to look at myself and tell myself that I could do this but inside I was like no I can't I can't I'm so scared. I remember the lady that I used to work with was telling me a few years ago that she had got surgery, and I had texted her. I asked about it, and then I just started doing research and for about a year and a half just reading articles joining groups. I didn't want to go anywhere didn't want to go to the store didn't want to do anything. I was scared that I might run into somebody I knew and them see me like this. I didn't want to take pictures. I didn't want to look at myself and mirrors anymore. I wore black every day no matter what the weather was like and one day my son had taken some pictures at a party. He showed me the pictures, and I just went into the bathroom, and I started crying for about an hour or so. I couldn't believe that that was me in the picture. I already knew that I was overweight. Still, I just never really looked at a picture or a full body picture because any other pictures are always with filters and from the shoulders up. It hurt like hell, and I remember crying almost every night for weeks and weeks."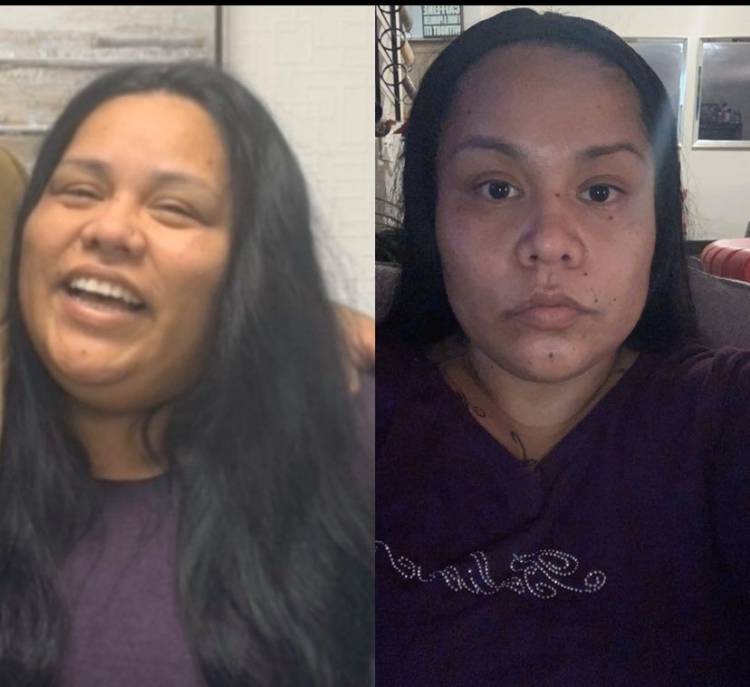 ZRO was at her breaking point and knew that something had to be done in terms of change. She knew that she could not live like this anymore.
"After weeks of crying and just being depressed, going to work, coming straight home, I started ordering groceries online because I just didn't want to go to stores. I didn't want to be seen anywhere. I was just like I can't keep doing this to myself, this is horrible, and I was still eating horribly. I was still binge eating. I was gaining more and more weight, and I just couldn't stop watching YouTube videos. I couldn't stop searching online gastric sleeve. I couldn't stop joining groups and just reading day and night. I didn't sleep for six months because I was so obsessed with this. I told my doctor, and they put me on a certain diet and plans to try to get it approved through my insurance. I went to the dietitian, and I was still gaining weight. I just knew that I couldn't lie about what I was eating because obviously, it was going to show. I tried to do everything without actually making the changes. I did this for about six months, and I just couldn't anymore. I got tired of it, and I decided to save money and find a way to get the surgery because I felt like this is the only way the only thing that's going to help me! I know that the surgery is not a quick fix, but I thought if I get this, it's like a discipline that I need. I need to be forced not to be able to eat. That's the only way that I was going to be able to do this because, on my own, I failed, and I kept failing over and over and over. I needed this so badly. I remember looking at my kids' faces because they would see how unhappy I was. I tried to hide it, but I just couldn't anymore; they knew that I was so unhappy and miserable, and I hated myself so much because I felt like they were embarrassed. It was just horrible to see their faces when we went out. We went out to eat one day, and we had a booth at a place we used to go to all the time, and I couldn't fit in the booth! I couldn't breathe. I went to the bathroom and tried to play it off and cried in the stall, and I was so nervous I didn't know what to do & how to go back out there and act like it didn't bother me. I tried to make a joke out of it, but I really didn't fit in a booth!! That, for me, was the worst. Not being able to tie my shoes without running out of breath, I couldn't bend down to put on my pants, and I broke a toilet seat!! Also, running out a breath carrying groceries in, yeah, those things made me plan and prepare for surgery."
ZRO was convinced that having bariatric surgery was her best chance, and she decided on Pompeii Surgical. She took her pre-op very seriously and threw out everything in her house that was not healthy for her or that would tempt her, and then she began saving for her procedure.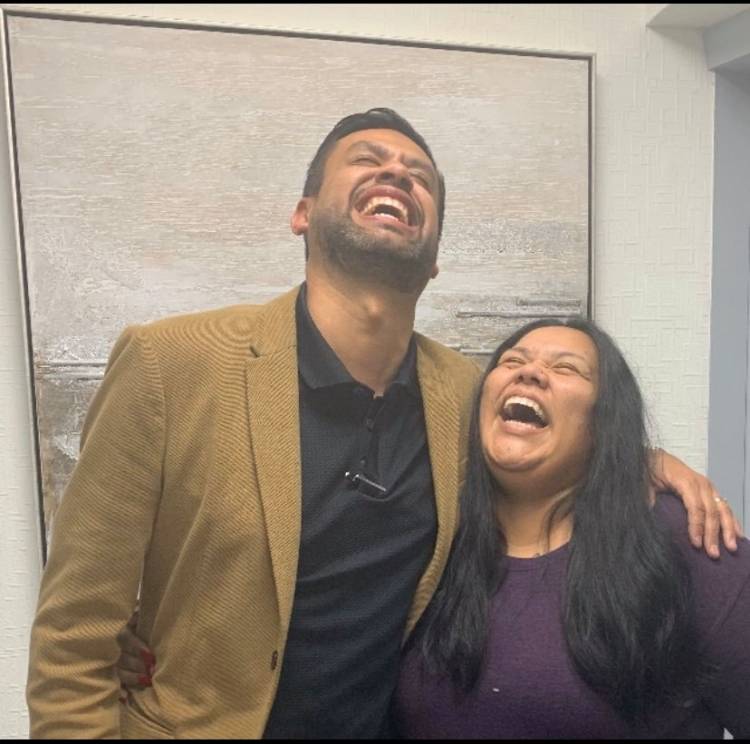 "For months I was putting up the money. I stopped going out to eat because that was the one thing that I really couldn't stop doing. I stopped going out to eat. I started trying to eat healthier and prepare myself for it. I was just so ready to do this."
ZRO just worried about whether or not she could keep this commitment to herself, and of course, she worried about future complications.
"I was trying to lose a lot more, so I wanted to do a bypass, which is the higher risk I've heard, but I really was just trying to get advice from my doctors, and I was determined to do it I was convinced."
ZRO followed through and had her Gastric Sleeve performed on November 25th of 2019. She had a complication-free procedure and had a good recovery.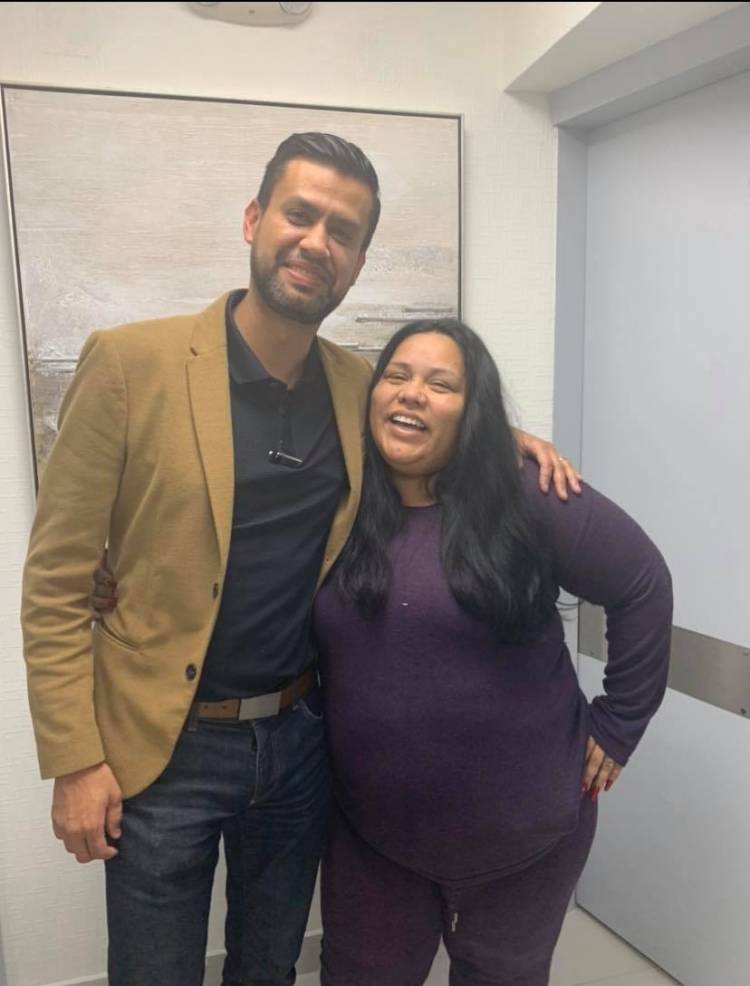 "I have not had any complications, and this is not easy at all. It's an everyday struggle, but I'm actually doing it. Sometimes I don't give myself credit for it, but I'm proud of myself, and it really makes me happy when I hear my kids telling me they can see a difference, so it's been really good so far."
ZRO is already hearing such positive comments about her weight loss, and when she hears it from her kids, it makes her feel so good about herself and her choice. Healthwise, she is feeling great. Her blood pressure is perfect, sugar levels are good, and no more high cholesterol or sleep apnea. She has no regrets.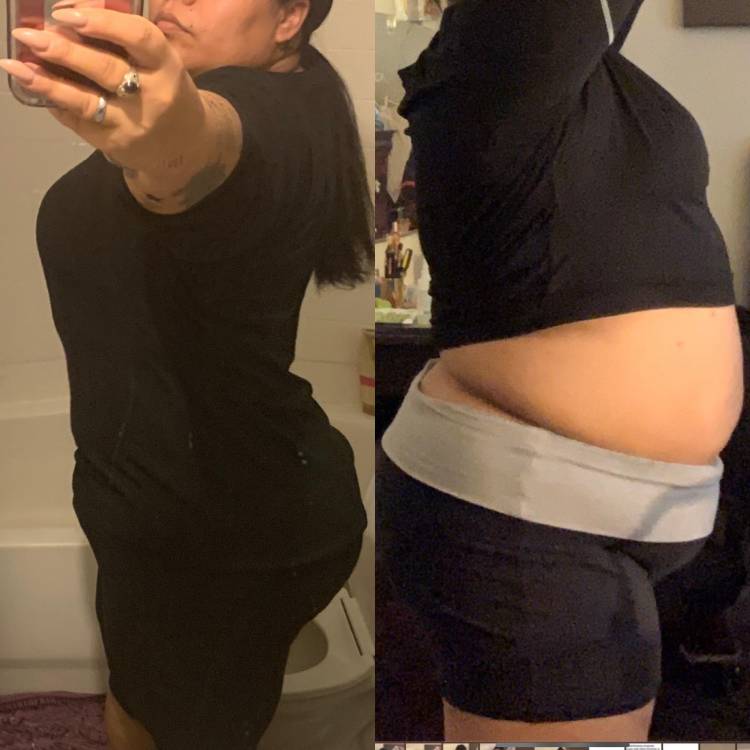 "I went alone to have the surgery, and I was nervous about it at first, but they would call me every day. I had communication with them from the point when I started trying to get information to when I booked my flights and right before I arrived. We never lost communication. There were never any issues with them at all. When I got there, they were so sweet and nice, and everybody was so friendly and made you feel like you were family, not like you were patients. They were understanding; they always asked if you were OK. My doctor was amazing, he was the sweetest man I've ever met, and I still keep in touch with him. He made me feel like I was his niece, and I was there, and he was taking care of me at his house; it was just such a wonderful experience."
ZRO does not want people to go into this surgery, thinking it is a quick fix or easy by any means, but she does want to tell people that they can do it.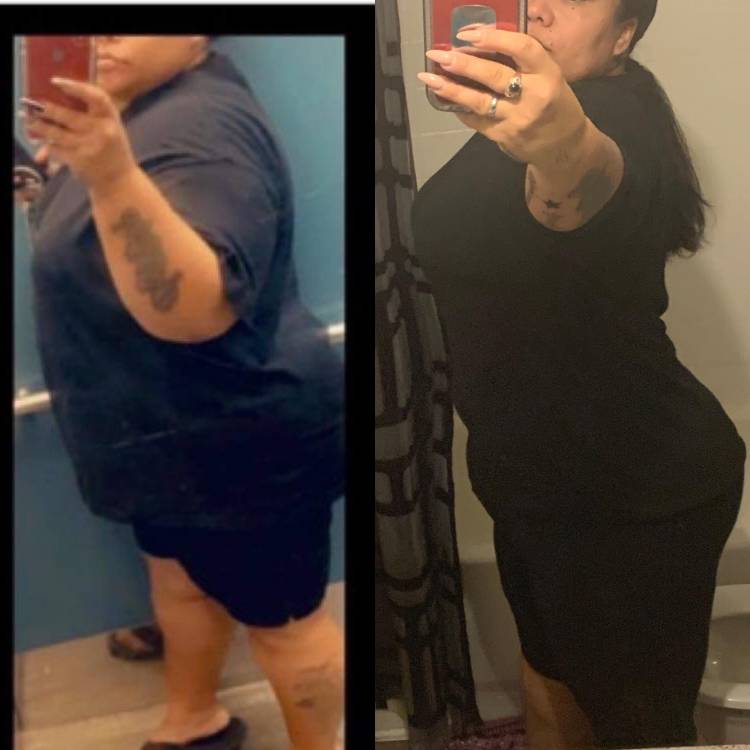 "I just want people to understand that this is not a quick fix; this is an everyday life-changing thing. You have to do it and commit to it, but if you've struggled with your weight all your life, if you've tried every diet and spent thousands of dollars on pills and shakes and tea's and Wraps and Magic creams, and you've tried and tried and tried and failed, but you're sick and tired of being sick and tired, then I would really recommend you do this. Sometimes like me, you need that discipline. You need to be forced to do something that you cannot fail at in order to make the necessary changes for you to better yourself and your health. I am learning every day to be patient and not to compare myself to others, which is really hard when other people are losing faster than you, but this is more than just losing lbs and inches, this is about gaining your self-confidence and loving yourself again—learning how to eat healthy, taking care of your body, your mind, your soul, for the better and being healthy for your kids for your family for your grandkids. I want to love myself again and be confident! I want to gain health and self-esteem and feel pretty! It's been one hell of a journey, and I still have ways to reach my goal. This is just the beginning, but I do it over again 1 million times!"