What to Expect From your Trip and Experience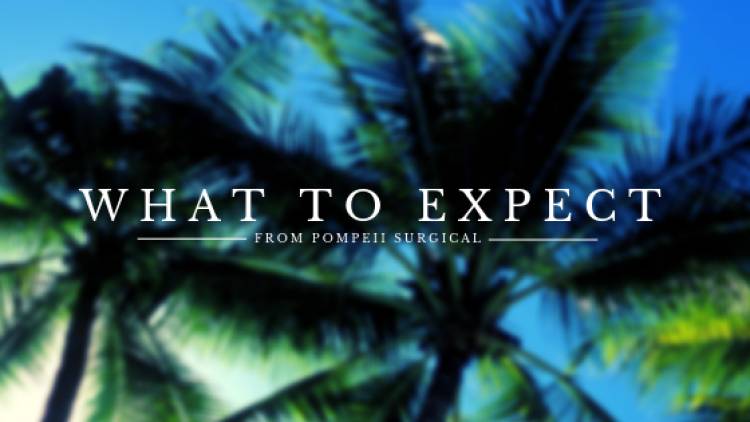 Pompeii Surgical is committed to ensuring their patients have a smooth and pleasant trip and stay in Mexico. They want it to feel as much like a vacation as possible because it is crucial to have the best possible experience with your new journey as possible. It's essential to start your journey on the right foot, and Pompeii Surgical wants to be a part of making that happen.
Pompeii Surgical will be involved in your process from start to finish. You will have help getting qualified for surgery, and they will help you book flights and lodging. You will even get help with your new diet once you are out of operation. Staying at the Beach House helps with hands-on experience with shakes and what to try.
Pompeii Surgical will pick you up at the San Diego airport right outside baggage claim. Your journey will start directly with a reliable and friendly ride, so you don't have to face the border alone for your first time. When you exit the baggage claim area, you will see signs that are green and have various letters such as N, O, P. These are zone signs. The driver will contact you upon arrival, and you will let him know which zone sign you are standing by so that he can quickly locate you. Once you and any other patients have been picked up, your driver will take you across the United States and Mexico border hassle-free.
Once you have arrived at the Pompeii Surgical Center, you will fill out all of your paperwork for your procedure, and you will pay for your surgery. After all of that is completed, you will be taken to your private room where they will give you instruction about your surgery time. You will also be given a gown to change into before your surgery. If you are having surgery that day, more than likely you will change right away, and a nurse will be in to take your blood for pre-op tests and insert your IV.
After your blood work is collected, your Dr. will meet with you to go over your procedure and answer any questions you might have. Pompeii Surgical will make sure you are 100% informed and comfortable with your procedure before performing your surgery.
If you are not having same-day surgery, you will be able to enjoy the comforts of the Beach House that evening, or wherever you have decided to stay. If you are having same-day surgery, you will be informed of the order of operation for the day and when you will have your procedure. Each procedure lasts about one hour. If you have time before your surgery to relax, you will stay in your recovery room and rest until surgery time with complimentary cable and wifi. You will be escorted to the surgery room when it is your turn for surgery. There you will be introduced to the anesthesiologist and the surgical nurses who will be assisting with your operation.
You will be asked various questions and at this time are still able to ask any remaining questions you may have. After you are ready, you will be put under anesthesia and have your procedure. You will be moved to your recovery room once your surgery has been completed, and you will be monitored carefully while the anesthesia wears off. Your Dr. will check back in with you once you are awake and inform you of how your surgery went and what to expect next. You can ask all the questions you want, and you will be monitored closely for the next two nights.
The nurses will administer your I.V medications, attend to your needs, and make sure you are entirely comfortable. You will not be allowed to drink fluids for 24 hours after surgery. You will be encouraged to walk as much as possible after surgery to eliminate any gas pain that can cause discomfort after surgery. This also helps in the recovery process.
"On your last day at the Surgical Center, you will be given the leak test. During the leak test, you will be given water with a purple tint to drink. Don't worry; it tastes like water. Dr. Quinones will follow up shortly after and examine you for discharge. Once he has ensured there are no leaks with your new stomach, and determined that you are cleared to be discharged, he will go over your post-op information, and answer any questions you may have."
You will then be escorted back to the hotel where you will spend the remainder of your trip. On the day you plan to travel home, you will be taken back across the border and back to the San Diego Airport as close to your travel time as possible to keep you from having to spend too much time waiting for your flight.
Pompeii Surgical knows that this is a scary decision and does their absolute best to make sure you have the best experience possible. They will be there the entire time to make sure that you are calm, happy, and have all of your questions answered. If you have any remaining questions before your trip feel free to use Pompeii Srugicals live chat at