Understanding Procedures and Pricing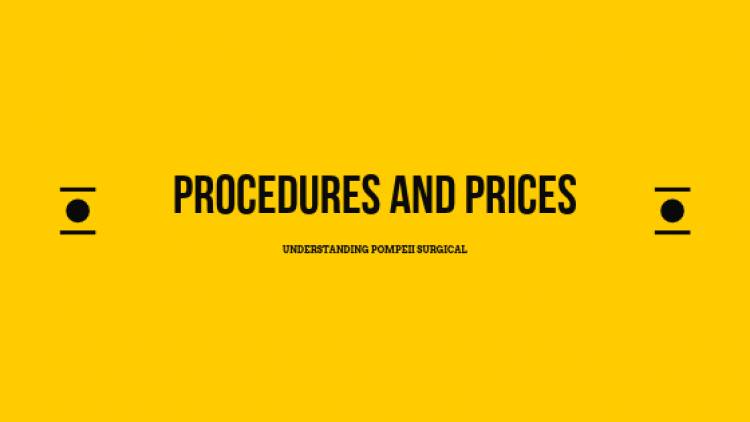 "Deciding if weight loss surgery is right for you is a big choice. Below we have listed each surgical procedure and our entire fee structure in a 100% transparent way. We are 100% against any hidden or undisclosed fees. If you're ready to move forward and get approved with surgery, you can fill out a surgical eligibility form below."
Pompeii Surgical wants to make it easy for you to decide which procedure is the right fit for you. Aside from answering all of your questions and your doctor helping pick the proper procedure based on your medical history. Below we will provide clear and concise pricing of all of the procedures and all fees that are involved.
A patients coordinator will ensure that you will be provided with an accurate and full final cost of what you will owe at the time of payment.
Our Promise
We never impose any unknown fee not listed on our website

There are never any surprise medical testing fees upon arrival

The final quoted surgical price is all you will be charged

Post support is provided free.
Understanding Everything That is Included in our Pricing
What is Included in All Packages:
All standard medical-related costs

Hotel room stay for you and companion

Ground transportation to and from the airport

Complication insurance via Pompeii Surgical

Travel insurance via Pompeii Surgical

Other Fees you may need to consider
Any and all fees will be discussed with you before you book your surgery.

Cardiology Testing when required before booking $150

Additional hotel night stays if not medical required

Mandatory $50 fee for post-op medication upon returning to the USA

High BMI fee of $500 for patients over BMI of 50
Flatrate Surgical Prices
Gastric Sleeve- Gastric Sleeve patients typically lose +70% of excess body weight in under two years. This procedure is recommended for most patients.
$4800
Gastric Bypass- The Bypass is an extremely effective weight loss procedure and is recommended for patients with a high BMI that have Diabetes.
$5800
Mini Gastric Bypass- Mini Gastric surgery is a short and relatively simple procedure that is safer and more effective than the Gastric Bypass. Recommended for patients who are considering a bypass but with lower BMI or does not suffer from Diabetes.
$5800
Lap-Band Revision to Sleeve- We will be happy to remove your lap band and perform a gastric sleeve procedure providing a better long term weight management solution.
$5800
Gastric Sleeve Revision- For patients who have had a previous Gastric Sleeve procedure and are considering a revision.
$5300
Sleeve to Bypass Revision- For patients who currently have a Gastric Sleeve who wish to revise to the Gastric Bypass of Mini Bypass.
$5800
Gastric Sleeve Plication- This is a specialized procedure for weight loss patients with particular health-related needs who cannot have the gastric sleeve.
$4800
Revision to Pouch Reduction- This is also known as a Gastric Bypass revision
$5800
Hiatal Hernia Repair- If you do not know if you have a hernia, we can optionally explore and determine if it's a health concern during your surgery.
$500
High BMI Fee (over 50)- This is the most common of our extra fees. For patients with a BMI over 50, we charge a fee to cover additional costs of undergoing a longer surgical process.
$500