Twakena Handy review "Dr. Saucedo is a very competent doctor."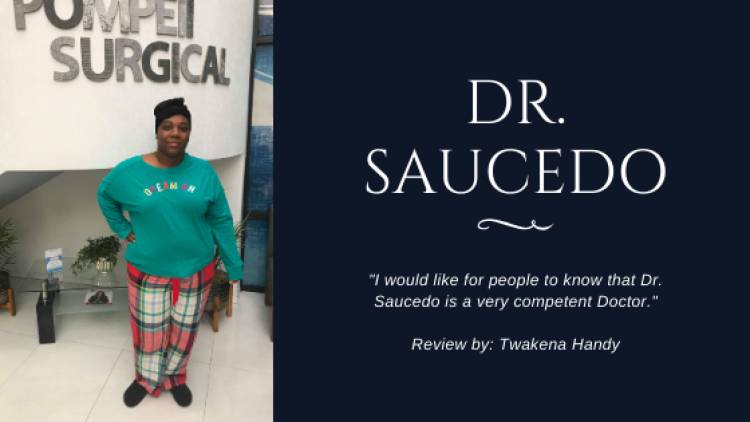 In reference to Pompeii Surgical's website Dr. Saucedo is a Board Certified General Surgeon. Dr. S Specializes in bariatric surgical procedures and has been a practicing surgeon for over a decade. Dr. S has many patients raving over his surgical procedures, and he has saved many lives according to a plethora of reviews on the Facebook Pompeii Support Group page.
Pompeii Surgical has very strict requirements in regards to which Surgeons they choose to join their staff. Dr. S has superseded those requirements and is an Award Winning Surgeon, specialized in the Gastric Sleeve Procedure, and only performs procedures on Tuesday through Saturday.
You can find all of his credentials on pompeiisurgical.com along with the ability to talk to patient coordinators with any questions you might have.
Twakena Handy found Pompeii Surgical online a year ago, as many of our Patients do. Whether you found Pompeii Surgical through Facebook, online research, Doctor recommendation, or the recommendation of a loved one, Patients are more than happy to share their honest stories and reviews on the facility and are hoping that those still on the fence, find some peace after reading their stories.
"I was assigned to Dr. Saucedo by the center in April of 2019, but I had to postpone my surgery because I wasn't able to take the time off at work."
In the meantime, Twakena researched her Doctor so that she would have a better idea of his credentials, etc.
"I did research Dr. Saucedo's credentials, and I was very impressed when I didn't find any negative findings."
Like many Twakena didn't meet Dr. Saucedo until the day she arrived at Pompeii Surgical.
"I met him on the day that I arrived at Pompeii Surgical prior to my surgery, and he explained in-depth the process to me. After my surgery, I saw him again in the Recovery room, and once I was back in my room in the evening after my surgery. I then saw him four more times while at the center over the next two days."
Twakena was impressed with her Doctor, the facility, and her recovery.
"I liked that Dr. Saucedo was calm and patient. He didn't seem rushed or bothered by my questions. He really listened to my needs. I felt very comfortable with him because he was so personable and genuine. I had read hundreds of reviews about him as well, and they were all good."
Her surgery and experience with Pompeii Surgical are now a memory. Still, her feelings about the journey are so strong that she is hoping her review and story will help someone else with their research into weight loss surgery.
"I would like for people to know that Dr. Saucedo is a very competent Doctor. HE is very knowledgeable when it comes to performing gastric sleeves. First and foremost, his bedside manner is wonderful. His surgical technique is also very complimentary. I have been a registered nurse for 13 years, and I am very impressed by the care that was given to me. The entire Pompeii experience was wonderful. It was one that I will never forget. The facility is clean and kind of serene. The staff is awesome. Customer service is a priority. I liked the fact that it was well organized, and everyone knew the routine."
Twakena is one of our amazing Patients who did her research, was dying to change her life and her set of circumstances, and she broke down the wall and faced her fears. She took her life into her control and thanks Pompeii Surgical for helping her and giving her the tool to freedom and happiness.