Sheila Swaim Says That Dr. Saucedo Really Cares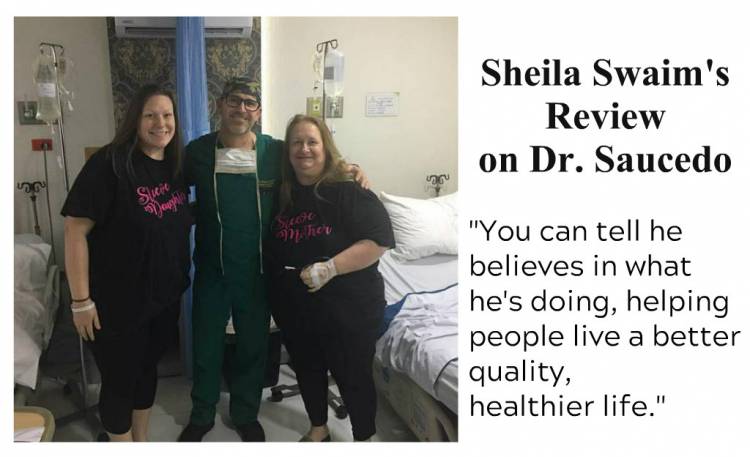 In reference to Pompeii Surgical's website Dr. Saucedo is a Board Certified General Surgeon. Dr. S Specializes in bariatric surgical procedures and has been a practicing surgeon for over a decade. Dr. S has many patients raving over his surgical procedures, and he has saved many lives according to a plethora of reviews on the Facebook Pompeii Support Group page.
Pompeii Surgical has very strict requirements in regards to which Surgeons they choose to join their staff. Dr. S has superseded those requirements and is an Award Winning Surgeon, specialized in the Gastric Sleeve Procedure, and only performs procedures on Tuesday through Saturday.
You can find all of his credentials on pompeiisurgical.com along with the ability to talk to patient coordinators with any questions you might have.
Chelsea Williamson and Sheila Swaim had enough of fighting the battle of weight loss. Sheila's daughter Chelsea had done her research on Bariatric Surgery and found Pompeii Surgical. Then they decided to have their surgeries together. They both had their surgeries with Dr. Saucedo. Sheila had been assigned to have her surgery with Dr. Saucedo. She was comfortable with it due to all of the doctors having great reviews. She also liked the amount of contact they had prior to surgery.
"I didn't have contact with Dr. Saucedo but his staff called frequently."
Sheila and her Daughter had their surgeries together and were impressed with his frequent visits to their room during recovery.
"He came to visit us in our room each day. He was very friendly, informative, and spoke English fluently. He explained everything that was about to happen and allowed questions. He is very likable, down to earth, and caring. He is a very good person, good reputation, great bedside manner, informative, and smart. You can tell he believes in what he's doing helping people live a better quality, healthier life."