"I Can't Thank Pompeii Surgical Enough for Giving Me a New Outlook on Life." -Ruth Rodriguez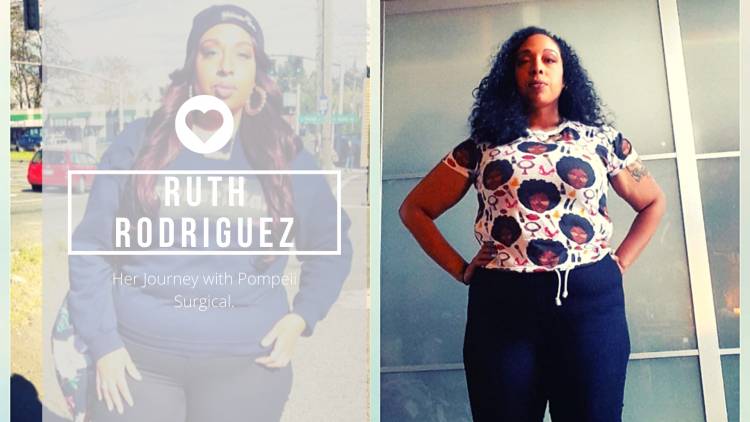 Weight gain at a young age can impact your life in ways you would never understand unless you were going through it personally. Children are fragile, and children can also be very mean. Imagine being a child who already feels wrong about their image and struggles, but is also being made to feel worse by others. It certainly is not fair and can impact the future of these kids very negatively.
"I've struggled with my weight since I was about 11 years old. Aside from the bullying and taking dangerous supplements to keep my weight in check or to lose weight, it's impacted my quality of life just from simple activities like walking up stairs which have impacted my joints."
Ruth Rodriguez was bullied, was depressed about her weight, and was doing dangerous things to try and lose the weight that was causing her so much grief. As she grew up, her weight was causing all kinds of problems for her, including destroying her dreams of a beautiful dress for her prom.
"I wanted a really beautiful dress for prom, but all the dresses I liked back then that were available were only up to a size 12. After that they got uglier. I had to go with a dress on the fly that was ok but wasn't the dress I wanted."
Ruth wishes things had been different. She has so many negative memories over the years in which she wishes hadn't happened. She is so thankful for her life now but truly wishes she had the surgery earlier. Her weight loss journey before surgery was relentless and left her feeling like nothing would ever help her achieve what she wanted to.
"We could be here all day making a long list, but I will give a few examples of the things that I tried since the moment I was trying to lose weight, to just before surgery. I did diet pills when I was 12 years old, starved myself, dealt with moments of bulimia, ate very small meals, the grapefruit diet, Weight Watchers, working out and cutting a lot of calories out, supplements, making sure I don't eat after a certain time, eating mostly salads and nothing else, celery diet."
Ruth didn't have any serious obesity-related medical conditions, but she did have pain from the weight.
"I was just overweight. I had no diabetes or high blood pressure whatsoever. I just had a really bad knee pain which I believe was leading to degeneration in the joints. And mild arthritis."
Ruth, like all those who have had bariatric surgery, eventually hit her breaking point and knew that something needed to change.
"September 2018. Did tons of reading and youtube video watching. Making sure this is what I wanted to do. I mentally prepared myself and all. I scheduled appointments with my Dr to get blood work and get the process started, so my insurance could approve and pay for my surgery. There are a lot of hoops to jump through, waiting periods, and other extensive processes when dealing with your health insurance to get approved for weight loss surgery. After all that I got denied not once but twice! I gave up."
Ruth desperately wanted things to change. She felt like she shouldn't still be dealing with this. She began to research bariatric surgery.
"In 2019, the day after my 34th birthday. I had a moment looking out from the 15th floor balcony in my hotel room in Canada and just felt that I still hadn't gotten rid of this weight once and for all and I'm 34 years old still stuck on this chapter. Wanted my health to improve weight wise. I don't have any other health issues and all I wanted was to lose this weight and wear the clothes I've always wanted to wear. I started looking into weight loss surgery on my drive back home to the states and stumbled onto Pompeii. Watched tons of videos and read and read about them. Once I felt that this was something I wanted to do I emailed Pompeii and got the process started. In about 24 hours I heard back and got approved. I was so damn excited and happy. Hadn't been that happy in ages."
After being approved for surgery, she began to prepare. The only concerns she had were very normal fears that most have before any type of procedure like this.
"I've never had surgery before, so I was afraid I was not going to wake up from the anesthesia or that I was going to have severe complications during surgery. But nothing of the sort happened."
Ruth had a somewhat easy time prepping for her procedure. She was on the right track already due to her desperation for this to be the thing that would change her life.
"I mentally prepared for months. I scheduled my surgery several months out to prepare for a permanent life change—a positive change in my health. I kept watching videos to make sure I didn't miss anything. Got a little obsessed. It was motivating seeing the changes in others for the same procedure I was waiting for."
Sheila wasn't without negative thoughts prior to her surgery. She was so upset that she had still been gaining weight. She was upset that at 34 years old, she still was dealing with everything she had been struggling with since childhood.
"The most I had ever weighed was 260 lb, and I weigh 280 lb the moment I started to do my liquid diet in July 2019. I was ashamed of myself that I had gotten that big that my knees and my joints felt it too."
Ruth's surgery went without complication, and she is nothing but thankful for the experience.
"I ended up getting the vertical sleeve gastrectomy. Which basically means that they removed about 75% of my stomach. I only received about for incisions on the top of my stomach and received I believe it was local anesthesia. Only stayed for about 2 or 3 days and then they drove us from the facility to the airport. I love Pompeii. They have a great facility and the staff is out of this world. They make sure that you're taken care of at all times."
Ruth's recovery was not anything she was expecting, and she didn't immediately think she had made the right choice.
"At first, I thought to myself the day after surgery was, "what the fuck did I get myself into?" The day after surgery all I could do was just vomit up blood and water because all I could have was just ice chips anything more than that I feel excessively full and he smells made me sensitive kind of nauseous after that. I didn't return to work until mid August so I took about 3 weeks off work. Didn't lift anything heavy for about 4 to 6 weeks. And I still haven't gone to the gym yet. I'm only about 5 1/2 months out currently. But I do plan on going soon. The recovery was not that bad. I also make sure I'm taking my vitamins and taking the medication that you are given when I first initially got released. You take the meds for a few weeks. It took me about a month for a lot of the discomfort to subside. But everyone is different on the pain level scale."
After the struggle, she started to feel more like herself again. She began to have positive moments again.
"Honestly, being able to sleep on my stomach was amazing. Haha. And of course the scale moving everyday. That truly made me happy I started to cry. Once I saw that scale move past my last lowest weight (which was 238 in 2012), I cried."
Although she did not have the most comfortable recovery, she is now feeling so much better than she did before surgery.
"My knees don't make as much, and I'm actually able to move around a little bit faster, and I can actually do certain activities without discomfort anymore. I love the fact that I can wear just about anything almost not quite, but just about anything and I'm comfortable in it. I love the fact that I can finally wear the jeans that have been stored away in my closet for the last several years packing on Dust. I can actually fit those, and some of them I actually can't fit because they're too big."
Ruth has gotten beyond the rough recovery and can think back on her experience with Pompeii Surgical and know that she made the right decision and continues to do so thanks to the Doctors who provided her with the tool to get on the right track.
"People in the United States try to give Mexico a bad rap for its "crime" issues, and I get it. But crime is everywhere no matter where in the world your at. Every place on the planet has its "bad spots" and "good spots." But medical voyeurism is becoming more popular every single year from what I have done research on. You have to do your due diligence when your putting your body in the care of somewhat of a stranger and being put under. Having procedures performed in another country can be sketchy to some people looking out. But Pompeii has been nothing but a godsend to me. Their facility is not only squeaky clean but the staff is outstanding and very caring and very attentive. They can pick you up from the San Diego airport and drop you back off when your ready to go. You meet people from different walks of life in the vehicle they pick you up from and the process starts the moment you step inside the vehicle. I honestly can't thank Pompeii enough for giving me a new outlook on my health."