Ricanda Doctor says "If you want a doctor who's attentive, sensitive, and cares about his patients, then Dr. Galindo is your man."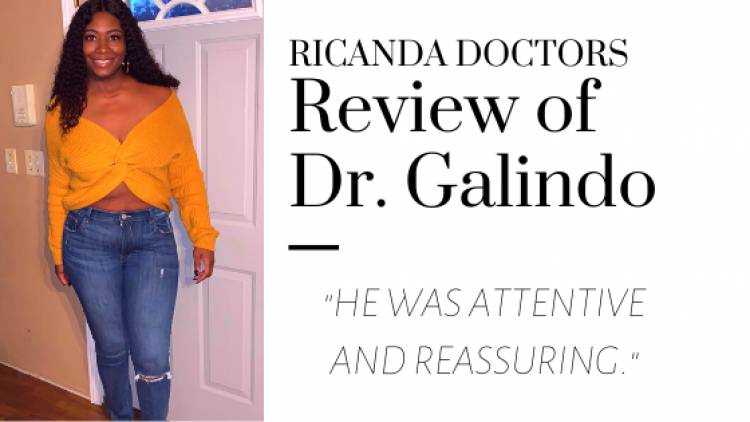 Dr. Galindo is titled ''The Golden Boy'Boy' due to his sense of humor, jokes, and patient care, and is a Board Certified General Surgeon. He is currently practicing his fifth year of bariatric surgeries and has assisted world-class surgeons throughout his career.
Dr. G spends quality time with his patients before their procedures because he understands that these procedures can cause some severe stress and anxiety, and he wants to calm his patients before they undergo surgery. He enjoys getting to know his patients and helping them have the best experience possible.
You can find his credentials and more information about Dr. Galindo at pompeiisurgical.com
Ricanda Doctor had a long history of weight gain and the inability to lose and keep the weight off. She had come to her wit's end and knew that she needed to do something permanent. She needed a tool to enable her to do the work to get the weight off, but this time actually see long-lasting results. She then turned to Pompeii Surgical after research.
"I found my Doctor while doing research about vertical sleeve gastrectomy in Mexico. I chose Pompeii Surgical after reading the reviews of others and after speaking with someone from the surgical center."
Many find Pompeii Surgical through a Google search. Some even are referred by a friend or family member. Pompeii Surgical is happy to answer any and all initial questions during your first call. This is the call that will guide you through applying for surgery and applying for financial aid for your operation. It is not the same process as it is in the United States, and you will definitely find that it is financially more affordable and possible for your set of financial circumstances. On our website www.pompeiisurgical.com, you will also find all the credentials for our doctors so you can do your own research and feel confident in your decision.
"I researched Pompeii'sPompeii's credentials, and I looked at both the positives and negatives."
It is important when making such a decision to research and weigh out the positives and negatives for your situation. Pompeii Surgical has many resources you can utilize, so you get as much information as possible before applying. There is our Pompeii Surgical Facebook Support Group, which hosts thousands of our patients with pertinent information, and also people who are doing their own research. Then there is www.pompeiisurgical.com, which has all the information possible about Pompeii Surgical, it's Doctors, and it's practice. We also have www.weightlosssurgerymagazine.com, which is Pompeii Surgical's online magazine with hundreds of personal weight loss surgery stories from our patient's own words. These are places Ricanda utilized when making her decision, and she urges you to do the same.
It is normal not to have any contact with your Doctor until the day of your surgery. You will have as much contact as you want with Pompeii Surgical themselves. Still, your Doctor being that they are in Mexico and booked solid with surgeries; you will most likely meet them just before surgery where they will speak with you, answer all remaining questions, and go over your operation in detail, making sure you are totally comfortable.
"I had no contact with Dr. Galindo until the day of my surgery. He came in and introduced himself along with his assistant and anesthesiologist. Dr. Galindo explained the procedure to me, he went into detail how about the procedure I was having and he reassured me that I was in good hands. He made sure I was comfortable after I told him I was nervous. He talked to me to calm me down and made me comfortable about his knowledge and skill in doing my procedure."
Ricanda found that although she only met him before surgery, Dr. Galindo made her feel confident in his abilities in a short period of time.
"I liked that Dr. Galindo was very attentive, reassuring. I had contact with my surgeon everyday after my procedure. He came and checked on me to see how I was doing."
Like most Ricanda found that Dr. Galindo, the Golden Boy, was nicknamed for a reason and she was not only comfortable with him from the first, but was thankful that he was her Doctor.
"I want people to know that if you want a doctor who's attentive, sensitive, and cares about his patients, then Dr. Galindo is your man. I want to say that my Doctor was knowledgeable and skilled in doing Vertical Sleeve Gastrectomy. From the day of surgery until I was discharged, he made sure that I was taken care of and answered all of my questions."
Ricanda is one of many who were completely satisfied with her procedure and with her Doctor. She has made so much progress not only in her weight loss but in the improvement of her health and happiness. She is on a road in which anything is possible, and she is thankful to Pompeii Surgical and Dr. Galindo for giving her the tool to make it possible.