Rachael Richey Sought to Improve Her Health and Be There For Her Son. Weight Loss Surgery Helped her do Just That.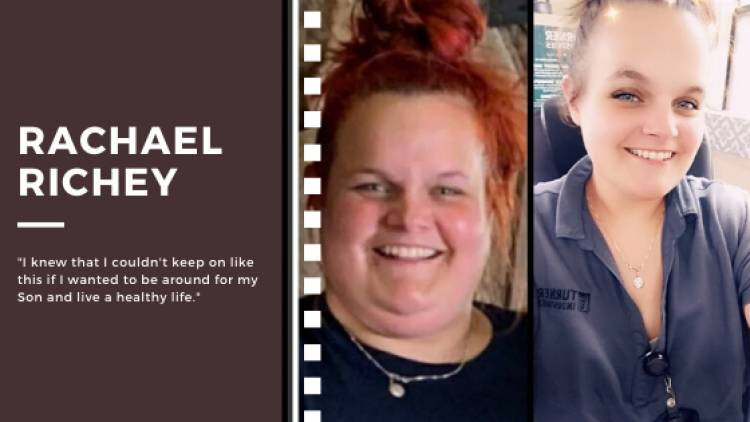 "Looking back, there were so many things I couldn't do because my weight kept me from enjoying them. Mainly enjoying rides at festivals, playing with kids, and just being outside."
Rachael Richey was 445 pounds pre-surgery and was struggling greatly with everyday life. She was miserable and having trouble with even the smallest tasks, such as breathing. It was frustrating to her that a thing we barely need to think about, something that comes naturally to our body, was a struggle for her.
"It was so hard for me to complete little daily activities. Something as simple as using the restroom was getting difficult. Not being able to play with my Son or nephews without feeling worn out. My life sucked before weight loss surgery."
Rachael felt her efforts to lose weight before ultimately choosing weight loss surgery never resulted in anything.
"Weight loss before surgery was an epic failure. No matter what I attempted, I always caved in and just went back to my old ways. I had a love relationship with food. I attempted gym memberships but always felt like I wasn't welcome at the gym because of my size. I tried weight loss pills, or as they say magic pills, big waste of money. Diets always failed; I couldn't stay focus enough to stay on a diet. All attempts just kept reverting back to me being a failure, and expecting I was always going to be overweight."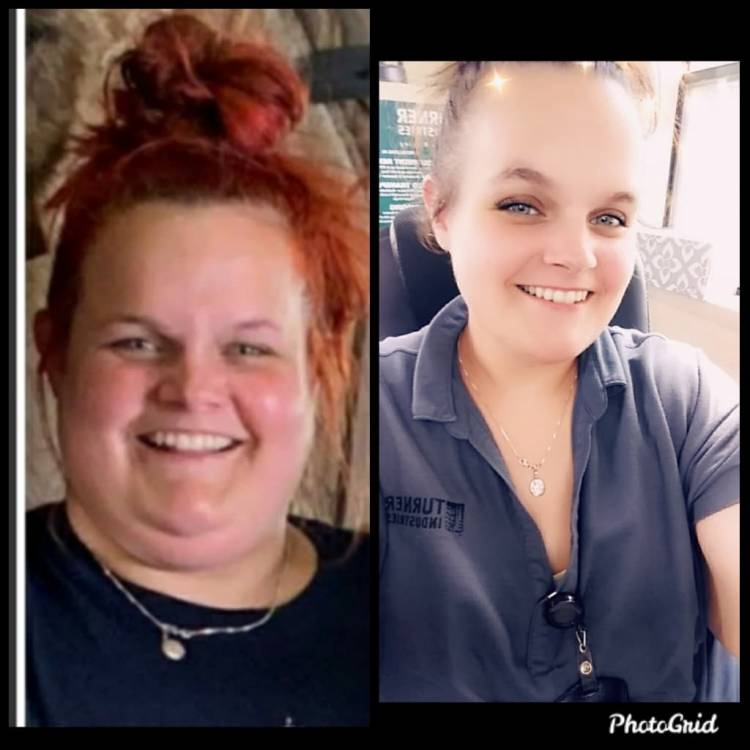 Her health before surgery was not in a good state either. Rachael suffered from high blood pressure and was in and out of the Doctors due to feeling ill. She never felt rested and was spending so much money to see Doctors for the same thing over and over again.
"I heard about the surgery itself from research, but I found out about Pompeii Surgical through 2 friends and a cousin who all had been to Pompeii Surgical and had their surgeries with great success."
Before learning of Pompeii Surgical, and even before researching, Rachael suffered the most significant devastation of her life.
"I can recall many events that have devastated and embarrassed me, but the one that bothers me the most is that I was so big that I couldn't even be administered an epidural to have my Son. I had to be put to sleep and miss his whole delivery and didn't get to witness one moment of childbirth due to my lower gut. I couldn't even be cut horizontally like regular section Mommas; I was cut vertically, and let me tell you, it sucked."
Rachael knew something had to change when she was unable to do anything without losing her breath.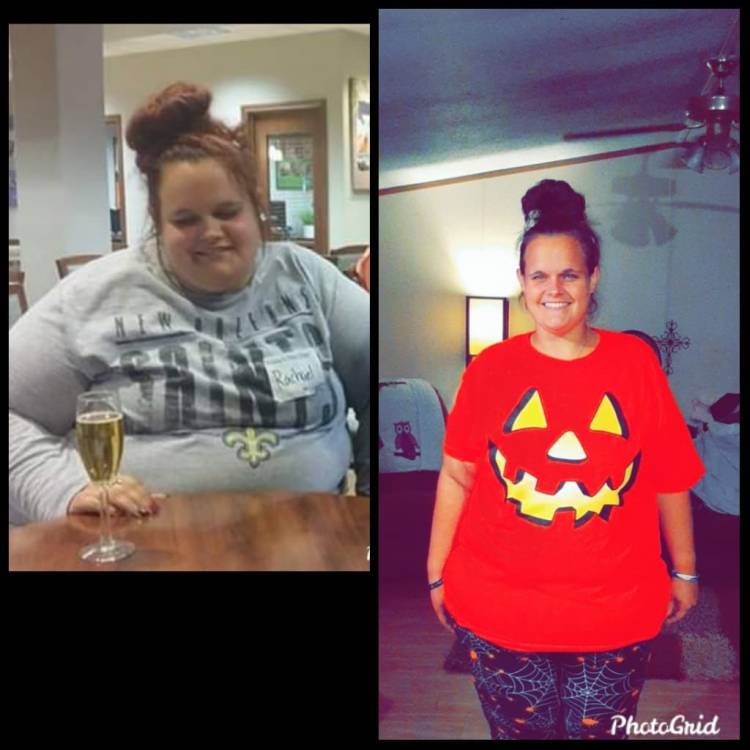 "I knew that I couldn't keep on like this if I wanted to be around for my Son and live a healthy life."
Rachael scheduled and was approved for surgery with Pompeii Surgical and afterward was faced with all of her fears and reservations. Although she was fearful, she didn't see any other way for her to get herself healthy.
"My main concern was, "Why the heck are you even considering going to Mexico? Come on, Rachael, really?" I just knew if certain people knew I was going, I wouldn't have been able to go through with it. I was so scared, but after struggling for almost five years with my insurance in the USA, I finally gave up until Pompeii Surgical was brought to my attention."
Rachael had felt down about herself for so long but was determined to see this through and feel better.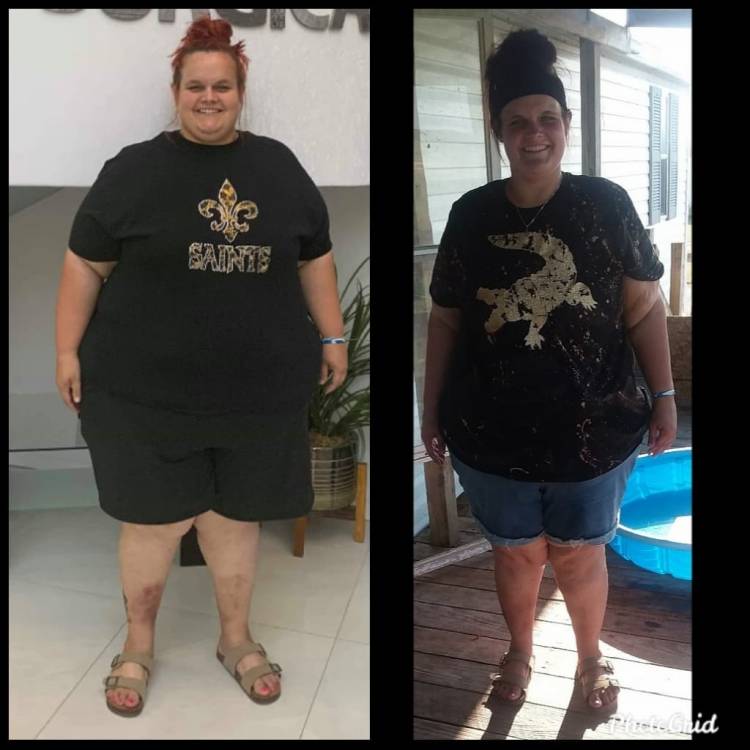 "I always told myself you're not fat you're just big-boned and that I might be big, but I'm beautiful. I look back, and I was lying to myself. My journey preparing for surgery was all over the place. I scheduled in February of 2019 for an April surgery date. I told myself that I was going to eat everything I wanted for the next two months until I had to start a pre-op diet and let me tell you I ate anything and everywhere I wanted to eat. I literally went on a food funeral mission. Mentally I was scared and terrified and couldn't believe I even was considering going to Mexico for surgery, but I remained positive, and I'm so glad I did."
Rachael had the Gastric Sleeve performed with no complications. She herself chose this procedure because she felt it would be the most effective but not too extreme. She thought she could work with the lifestyle change.
"The bypass kind of scared me. The Gastric Sleeve was the best decision ever. Recovery was painful, but nowhere near waking up from a c-section painful. My recovery was a lucky one. I didn't experience the bad gas pains that everyone was talking about. That scared me, but I also made sure that I was walking walking walking like they told me. They stressed it tremendously. The ice chips you are allowed the day after were Heavenly. It sucked because my new tummy wasn't having it, and I kept puking, but the Doctor told me that I just needed to wait a little longer to attempt ice chips. I was so ready to experience these popsicles that everyone said were so amazing. Once we were taken to have the swallow test done, let me tell you the popsicle was so delicious that I didn't know what happened to me. Best popsicle I've ever had!!! I had a bunch on my stay, and if I could have frozen them and brought a bunch of them home, I would have, they are that good. The purple apple juice was decent, wasn't gross, but was so relieved to be able to keep stuff down finally. It's a whole new experience learning what your stomach can and can't tolerate anymore. I was thinking, "thank God I am alive, woke up, and surgery was a success."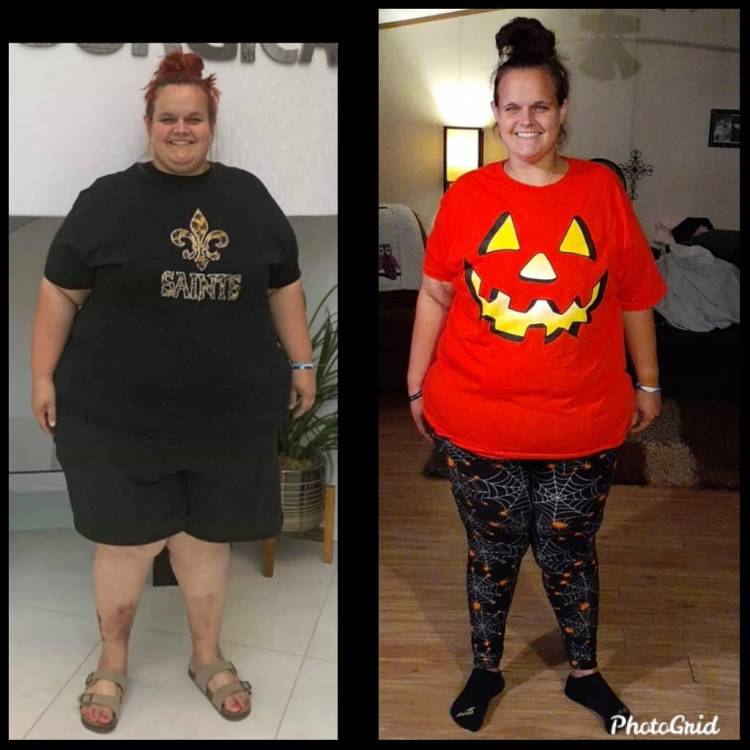 Post-op Rachael could not believe the amount of weight she was losing and how fast.
"My first happy memory was not believing how much weight I was losing, and as unattractive as it is, but seeing all the sagging skin and seeing my fat melt away was unbelievable. My health is so much better now. I no longer have high blood pressure, no longer am struggling and out of breath. I feel more active and more alive."
Years of struggling with weight gain, struggling with losing weight, and feeling like a failure were things of the past now. Rachael could look back on her life and know that her future held something different, something new. She no longer had to try fad diets or magic pills. She no longer needed to feel that she didn't fit in at the gym. She was watching the weight melt away and was feeling like there was finally hope, finally a guiding light. She is so hopeful and excited about her future and what lies ahead for her, and she expresses that by merely telling her story in hopes that it will help someone else feel less alone in their journey to weight loss surgery.
"Pompeii Surgical was the scariest risk I have ever taken, but I am so glad that I did it. The best decision I ever made was going to Pompeii Surgical. The care and help received by Pompeii Surgical staff were beyond what you'll ever receive here in the United States. If you are on edge about the whole going to Mexico, don't be. I was so scared, and now if you ask me, I will tell you that it was the best thing I have ever taken a risk on, and I would do it all over again without hesitation. Don't hesitate, go for your goals and get to achieving and living the life you deserve! I'm just at the beginning of my forever, and I can't thank Pompeii Surgical and Dr. Q enough for saving my life and making me healthier for my Son. I already feel like I have added more years to my life in just a mere 4 months. My future holds great things that weren't even possible before, and I am beyond grateful for taking back my life and achieving my happiness. What's stopping you? Just take the leap of faith, and I promise you won't regret it!"