Pompeii Surgical Financing Compared to Other Surgery Centers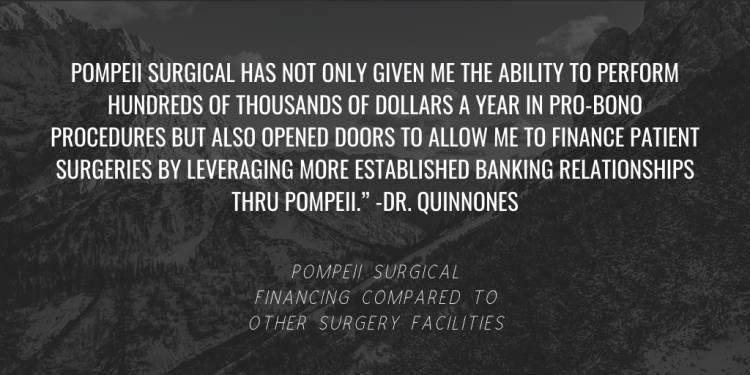 When you have dealt with weight gain and the inability to lose weight it can push you to your breaking point. You gain weight, then more weight, then more weight, for whatever circumstance. Then you attempt diet after diet, and feel like you failed. Then you try exercise, and that doesn't work for whatever reason. That is when you may hear about Bariatric Surgery.
The one thing roadblock that many face, is not being covered for co morbidities by their insurance, and how expensive it is even when insurance does cover it.
In the United States typical costs can run you anywhere between 20,000 to 25,000. This was stated on the National Institute of Diabetes and Digestive and Kidney Diseases. The price of your surgery will depend upon your procedure, the surgeon's fee, and the hospital you choose. There could also be other fees included depending upon where you go.
As stated above even if your insurance does cover part of your surgery, you may find that the cost is still more than you can afford. You may have even found yourself under the impression you were covered, to then find out your insurance declined to cover your surgery. Then what? There are other options! If you cannot afford the options that your surgeon has offered you, perhaps Pompeii Surgical can.
You have made the biggest decision, and that is to take control of your situation and to have weight loss surgery. If you have exhausted all options in the United States and are looking at facilities in Mexico. You should take a serious look at Pompeii Surgical. If you have never heard of Pompeii Surgical, your first step should be to research and your first stop should be www.pompeiisurgical.com.
"I joined Pompeii Surgical three years ago and it was the best decision I have ever made. At the time I was very limited in the amount of pro bono work I could engage in because of the organizations I worked for and I have spent a years preaching to financial institutions that money should not be a factor in the decision process of undergoing this procedure. Pompeii Surgical has not only given me the ability to perform hundreds of thousands of dollars a year in pro-bono procedures but also opened doors to allow me to finance patient surgeries by leveraging more established banking relationships thru Pompeii." -Dr. Quinnones
Pompeii Surgical is entirely transparent with all the details of what will be included in your journey to surgery. You can apply for approval online and you will be reached by a Pompeii Surgical staff member in a timely manner. The staff member will help you figure out which surgery is the right choice for you and all the prices are available online for you to look at before you ever decide to make your call. There are never fees that aren't clearly listed on the website.
For your surgery your package includes Medical related costs, Hotel room stay for you and your companion if you choose to bring someone. Ground transportation from the airport to the facility and back to the airport for your trip home, complication insurance via Pompeii Surgical, and travel insurance via Pompeii Surgical.
Pompeii Surgical Fees:
1. Gastric Sleeve: $4,800
2. Gastric Bypass: $5,800
3. Mini Gastric Bypass: $5,800
4. Lap Band Revision to Sleeve: $5,800
5. Gastric Sleeve Revision: $5,300
6. Sleeve to Bypass Revision: $5,800
7. Gastric Sleeve Plication: $4,800
8. Revision to Pouch Reduction: $5,800
9. Hiatal Hernia Repair: $500
10. High BMI fee (over 50): $500
Pompeii Surgical's Financing is Mexico's #1 Patient Approved Program. Pompeii Surgical is the only surgical group in Mexico that works privately with it's own investors to secure loans for their patients. They are able to approve patients for surgery regardless of credit status.
Benefits of choosing Pompeii Surgical as Your Lender:
1. Same day approval on most application loan requests
2. Financing regardless of credit score and no credit check options are available if you do not want your credit checked.
3. There is an average of 8% lower interest vs other lenders
4. New average down payment for all patients is only $2400
5. Pompeii Surgical is able to work with bankruptcies and foreclosures.
You have 2 financing options available to you. The first option is what is called an in house financing program. The second is for the financial aid department to help you out with your application. You will need to apply for financing and be denied before applying for financial aid.
This sounds complicated, but rest assured that the loan process with Pompeii Surgical is much easier than any other loan you may have applied for in the past. "Pompeii Surgical offers 100% approval for patients seeking partial financing options for their surgery."
There is a chance you may have applied with companies like United Medical Credit, or CareCredit in the past and been denied. This is an instance where you absolutely should apply for Pompeii Surgical in house financing program. The credit and income requirements are much lower and Pompeii Surgical provides all patients with low interest and fees regardless of your credit history.
You will be approved within 24 hours and will only have to fill out a short application. Now what happens if you are denied? That is when you will apply for the financial aid program and a dedicated specialist will work with you in order to make sure your dreams of having this surgery come true.
The takeaway is this, go with Pompeii Surgical. Absolutely do your research and read all about what goes into any aspect of Pompeii Surgical that you are concerned about. There are also online specialists available to help you with any questions you may have. Feel free to ask any and all questions so that you are completely comfortable with whatever decision you make.