Our Facebook Support Page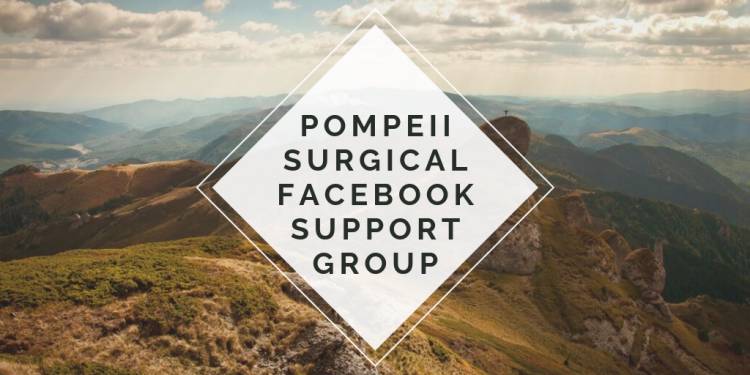 Did you know?
Pompeii Surgical has a Facebook Support Page? Perhaps you did, and that is what led you here. Pompeii Surgical Patient Support Group has been live on Facebook since September 3rd of 2016 and currently has 14,532 members. This group is not just for people who have already had their surgeries through Pompeii Surgical but also is open to those merely curious about it. The goal of the page is put best by its creator:
"This is a gathering place for past, present, and future patients. Here we ask questions, offer support, and uplift one another."
There are many many inspirational stories of success on the page from actual people who are there to offer guidance and answers if any are curious about their level of care, or Pompeii Surgical in general. The conversations are inspirational, practical, educational, and supporting. People share their stories, their goals, and their successes. It is a wonderful place for someone who is trying to decide what they are to do with the decision staring them in the face.
While browsing on the page and reading posts and stories, please feel free to ask questions, allow others who have gone through the experience, offer advice, guidance, and honest answers about their procedures and their post-op experience.
On the page, there are also articles shared from Pompeii Surgical's Online Magazine, which you are reading now. The Facebook page also has a direct link to Pompeii Surgical's website with even more information and a live chat operator to answer any questions you might have. Pompeii Surgical has a multitude of ways to get all the information you could want. We want you to be completely informed, supported, and comfortable before deciding to have surgery with us. Our patient's care and taking care of their questions and emotions are of the utmost importance.
On the Facebook Support Group page, you will also find a mentorship section in which you can offer support as a mentor if you have already had surgery, or you can ask for assistance from a mentor, and one of our own will help you out in any way they can. Many people who have applied for surgery end up meeting people on the site who are having their surgeries the same day, and are able to share the experience with those very people.
Among all of the different sections that you can utilize at the top of the page, you will find videos, an event page, and a file page. There are accountability calls under the event section, videos from patients, and in the file section, you will find things from relevant links, weight loss trackers, buddy lists for surgery, and journey videos. For those who have plans to have their operation, you will also find a recommendation section in which there are places for you and your companions to visit in Tijuana.
The page is designed to be of value to all of those in whatever stage of the journey they may be on. It has support and accountability for those who have already had their surgeries, and it has support, education, and guidance for those debating getting their surgery. It is designed to ultimately care for all those in this weight loss surgery world, and if utilized correctly, will yield to you everything you need.