Misty Crabtree says, "The Nickname Goldenboy Could Not Fit Him Better."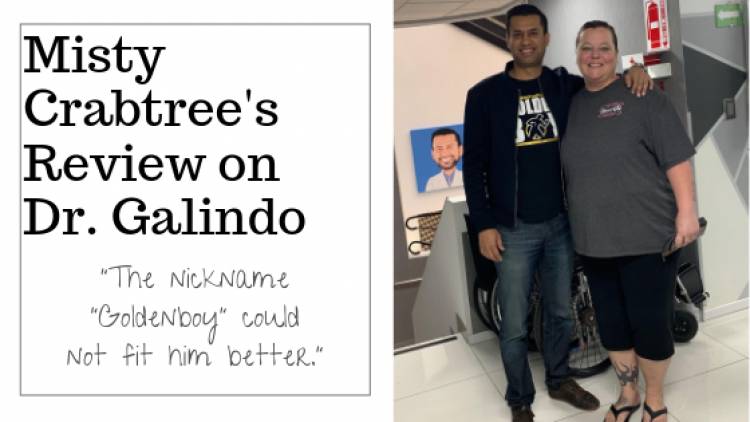 Dr. Galindo is titled 'The Golden Boy' due to his sense of humor, jokes, and patient care, and is a Board Certified General Surgeon. He is currently practicing his fifth year of bariatric surgeries and has assisted world class surgeons throughout his career.
Dr. G spends quality time with his patients before their procedures because he understands that these procedures can cause some severe stress and anxiety and he wants to calm his patients before they undergo surgery. He enjoys getting to know his patients and helping them have the best experience possible.
You can find his credentials and more information about Dr. Galindo at pompeiisurgical.com
Misty Crabtree had battled her weight gain and came to the same conclusion all of our patients come to; she'd had enough and needed to do something about it. She found Pompeii Surgical and had her procedure done by Dr. Galindo, who was assigned to her when she called to schedule her surgery.
"After he was assigned to me, a lot of research was done. His reviews were phenomenal, and I had complete comfort in him handling my case. I didn't have the honor of choosing him, but had I I would choose him all over again."
Along with her, research Misty spoke with Pompeii Surgical prior to her procedure regularly.
"I didn't speak to Dr. Galindo personally until I arrived at Pompeii Surgical. However, the Staff of Pompeii Surgical I spoke with often. They were very informative and understanding of all of my questions and concerns."
Misty had her procedure with zero complications and was happy with the care she received not only from the staff but from her Doctor as well.
"Dr. Galindo was in and checked on me often after surgery. After I left Pompeii Surgical, I haven't talked to him. However, I have spoken to the staff, and they have been so wonderful. I have done so well that I have felt no need to speak to Dr. Galindo, though I would love to go visit one day."
Misty had such a great experience with Pompeii Surgical and has nothing but positive things to say about the facility, the staff, and of course, Dr. Galindo.
"His personality was amazing, as was his bedside manner, his compassion, the list goes on and on. They were all amazing and informative. I received the absolute best care I have ever received in my life. Dr. G is an amazing, caring surgeon. The nickname "Goldenboy" could not fit him better. Why should you choose Dr. Galindo? HE IS AMAZING! The fact that he's easy on the eyes and smells absolutely delicious helps too."