Misconceptions about Bariatric Surgery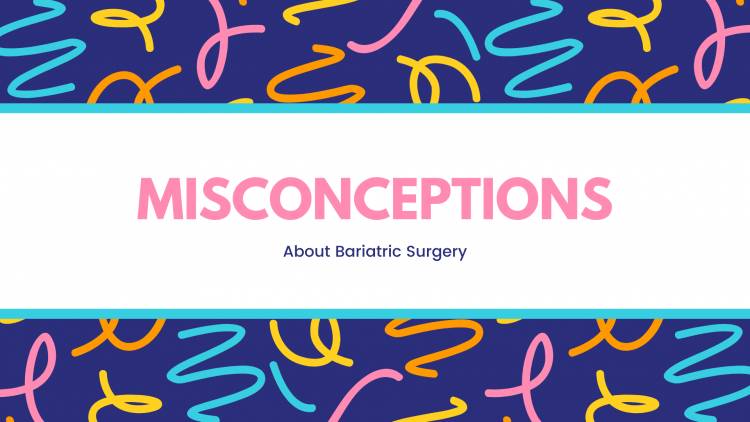 There are still a lot of negative opinions on bariatric surgery, and a lot of people genuinely don't understand the ins and outs of the operation. They don't understand people's whys for getting the surgery. Some of them think diet and exercise are the key, and in all honesty, it doesn't work like that for some. For those who don't know, there are three general types of the procedure that are the most common. These procedures are the lap band, the sleeve gastrectomy, and the gastric bypass surgery.
For a Gastric Bypass, a small pouch is created at the top of the patient's stomach. The stomach pouch will absorb less food and reduce your hunger and cravings. The small intestine gets divided into two parts, and this will consume fewer calories and nutrients.
For a Sleeve Gastrectomy, the Doctor will remove 80 percent of your stomach, which will limit the amount of food you can consume at one time and will regulate hunger and blood sugar.
The Lapband is a procedure that Pompeii Surgical does not perform as it is not the most productive procedure; however, Pompeii Surgical will do a Lapband revision to sleeve or bypass.
A misconception is that you can get whatever surgery you choose and that there isn't much of a difference; they all do the same thing. This is false. Every procedure is tailored to the person who needs it. The Doctor performing the procedure will do the surgery that is in the best interest of the patient and the one that will have the least amount of complication and yield the best results.
There is another misconception that if you are at a lower BMI, you should not or cannot have the surgery. It is up to the Doctor to decide if lower BMI patients qualify for surgery. You do not know what is going on in a persons body or how they are carrying their weight. Lower BMI patients can benefit incredibly from bariatric surgery due to the preventative care idea. It is important to do preventative care in all aspects. In this particular aspect, the patient can avoid potentially life-threatening health issues by getting this surgery.
Although you can be too small for surgery, some believe that you can be too big for surgery as well. Though it does come with more risks, patients who weigh, for example, over 500 pounds, can successfully get surgery. It does not come without risk; however, no surgery comes without risk. The reason for that additional risk is due to pre-existing medical conditions. The primary qualifying factor in Bariatric Surgery is that you cannot lose the weight with diet and exercise. Clearly, with High BMI patients, this is immediately a qualification.
Many seem to think that the surgery itself is more dangerous than obesity itself, which simply is not the case. The risks associated with bariatric surgery are slight and very unlikely to result in any complication. Approximately 1 out of 1,000 patients have a risk of dying within 30 days following surgery. Usually, this is due to a pre-existing condition. Obesity itself can lead to all sorts of obesity-related medical conditions such as type 2 diabetes, certain types of cancers, kidney issues, and heart disease. Also, things like high blood pressure and sleep apnea can pose risks for your life vitality.
Another misconception is that for most, the surgery will not work and will not yield lasting results. The level of success you receive is dependent on the level of effort you put into your lifestyle change. If you are serious about your procedure, it will work for you.
Many who are declined by their insurance give up or think they need to give up because there are no other options; however, there are. Facilities like Pompeii Surgical offer in house financing and options that will help and allow you to get bariatric surgery without insurance and within your budget.
Not everyone needs plastic surgery after their procedure. Though some do, there is a common misconception that everyone does, and that simply is not the case. It will be entirely dependent on the person as an individual. Genetics, how fast you lose weight, and age, etc. can all be determining factors in whether or not you will have loose skin.
A lot of facilities, doctors, or people will tell you that you will be deficient in your vitamins and nutrients and will forever have to take massive amounts of vitamins. Though you may need to take vitamins, who doesn't? You can combat the lessening in vitamins and nutrients by a balanced diet first and foremost. A doctor can let you know if some supplements and vitamins can be beneficial for you; however, vitamins are never a bad idea, surgery or not.
Some fear that they will not be able to get pregnant after surgery. However, if you think about it, there are those who have the surgery in order to get pregnant. Though you may want to wait for your body to recover fully, it is absolutely possible. The benefits of waiting to get pregnant are that it won't interfere with your weight loss, and also it may be dangerous for the baby and for your vitamin levels. Losing weight will increase the odds that you will have a healthy pregnancy.
SURGERY IS NOT THE EASY WAY OUT. This is the one that is beyond unfair for those who have bariatric surgery. This surgery is a positive tool that many people have used to set themselves on a happy, healthy journey. Some have genetic predispositions that lead to weight gain; some have medical conditions that lead to weight gain. Some simply have emotional issues that lead to weight gain—whatever the reason the surgery does not do the job for you. You have to commit to the lifestyle change; you need to commit to the diet, the exercise, the mental help. This is by no means easy, and for those who have had the surgery have many different battles they faced and probably still face day today. If weight loss were easy, bariatric surgery would not be necessary, so the whole process is just as hard, but gives the patient a tool to do what they were already doing to lose weight. The process doesn't change, but this tool makes it possible.
For those of you who have heard any of these misconceptions, or others, it is imperative to do your research. Within your research, contact Pompeii Surgical and ask them your questions as well. Ask your Doctor. Hop onto Facebook and talk with Pompeii Surgical patients on the support group. Please don't believe in all the negative things that are said, because as you can see, many of them may not be accurate.
Good luck on your journey.