Mentally Preparing for Post-op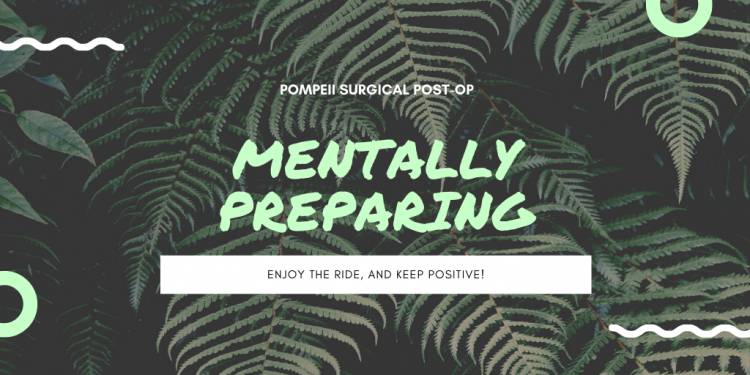 After deciding to have weight loss surgery there are bound to be many thoughts running through your mind. Am I making the right decision? What if I can't handle the diet? What if I don't lose weight? Etc. It is important to keep your head and just continue to think about your WHY. Why did you choose to do this, and what will you do to make sure it happens. This is a guide to what to expect, but know that things may be different for you and that is not to dissuade you or make you think something is going wrong in your recovery, but it is to be expected that your results will vary depending on the effort you put into it and your healing process.
You can expect to lose weight very quickly after your surgery, partly due to your new diet, but also with routine exercise that you must implement into your routine. The weight loss will rapidly come off directly after surgery. You may struggle with the rapid change in your appearance as well. It is important to just stay positive, keep things in perspective, and just keep thinking of the ultimate goal. At a point you may hit a plateau and if that is your goal weight, good for you, if not do not worry. It is normal.
It is to be expected that you may struggle with the new routine and cravings. It also may be difficult for you to deal with incorporating a new exercise regimen. Again, remember your why. Remember why you went into this journey full force and continue that intensity. You can get the results you desire from weight loss surgery but what is important to do is to take it one day one pound at a time. Your lifestyle change is what is going to get you there. Keep to your diet, keep to your exercise. Do not stress if you mess up from time to time. Lifestyle change is not going to be smooth and easy, it will take time and effort.
Pompeii Surgical will send you home with everything you need to be successful and will offer and help of guidance free of charge after your surgery. You will know your nutrition plan, you will know if you need any vitamins, and you will have the answers to any questions you may have. It is very important to get enough fluid to avoid dehydration so make a goal to drink 64 ounces or more a day. It is also good practice to going the Facebook Pompeii Surgical Support Group page. There you will meet patients, people waiting for surgery, and those debating surgery. Anyone there will be happy to answer any questions you might have in regards to questions prior to surgery, or questions and concerns after surgery.
Although it is important to be concerned with your exercise after surgery however you should definitely take it easy right after surgery. You should begin walking as soon as you are able after surgery. Not only will it help with any gas pain you might be experiencing, but it will help with the weight loss as well. It is also a great way to get you into the habit of exercising. Schedule a daily walk, or more than one if you are able. You can gradually work up to other fitness goals as you are able and you can build a regimen that you can stick to.
It is also to be expected that any health conditions you had prior to surgery may improve or go away completely. You should expect to feel and be healthier after surgery. Your quality of life should improve as well. Many who went into surgery with conditions such as type 2 diabetes, or sleep apnea find that those conditions completely disappear after surgery. Those fearing that they are just steps away from diabetes can breathe easy knowing that it is not a factor any longer. 95% of people who receive weight loss surgery say their quality of life drastically improves after surgery.
Any weight you lose after surgery will vary depending on what you way before going into surgery. You should expect to lose about 40-60% of your extra weight after surgery. You can speak to your surgeon or any member of the staff prior to surgery and ask them certain things you can expect after surgery based on your circumstances. They can also tell you what you can do to prepare of the post op. The 40% aspect is the statistic for those who receive a sleeve gastrectomy. The 60% weight loss is for those who receive a gastric bypass surgery.
You should expect a short recovery time due to the minimally invasive procedure, and you will be released shortly after your procedure. You should feel normal within 3-5 weeks. You will stay at the Pompeii Surgical facility for a night and some choose to stay in Mexico for a few days or so after. You can stay in a local hotel or at the beach house where everything is available to you to prepare for post-op.
Some side effects may be gas pains, constipation, sugar rushes, vomiting from high sugar meals, and gallstones. It is normal to be concerned about any side effects and you are instructed to reach out to Pompeii Surgical or your primary care physician to make sure everything is ok.
You can expect your body to handle food differently than before your surgery. It may also be harder for your body to absorb nutrients and you can ask your Doctor if there are any supplements you may need to take.
This surgery will give you dramatic results if you utilize your tools correctly by incorporating diet and exercise. Eating small frequent meals can help any issues with your body processing the food. You can expect this to be hard to get used to if you are used to eating big meals. Creating a nutrition plan and sticking to it is imperative. Creating an exercise routine is also an imperative step and can be difficult to get used to. Any help you may need you can seek from Pompeii Surgical or your support system.
A big thing to realize prior to surgery and after, is this is a mental game for most. When a person goes through a major change like this, you have to adjust your life, in order to create the change. You can focus on what others are thinking of you or your surgery. Some patients have more confidence after surgery, but others still struggle. It is important to tackle those mental aspects in whatever way you deem necessary. You can't make the change without getting not just your body healthy, but your mental state healthy as well. Having access to a mental health professionals may be extremely beneficial when it comes to mental health issues such as: bad relationships with food and food addiction, self confidence issues, relationship issues, any types of bumps in the road. This is an extreme change and there is nothing wrong with seeking out any help you need. If you are serious about the change, and want to see the success, you have to get the help for any mental aspects you may be suffering with. If these reasons led you to weight gain, not taking care of them may lead you to weight gain again. It is important to take care of it, for yourself, and for your happiness and success.