Melissa Davis "I Will Never Look Back."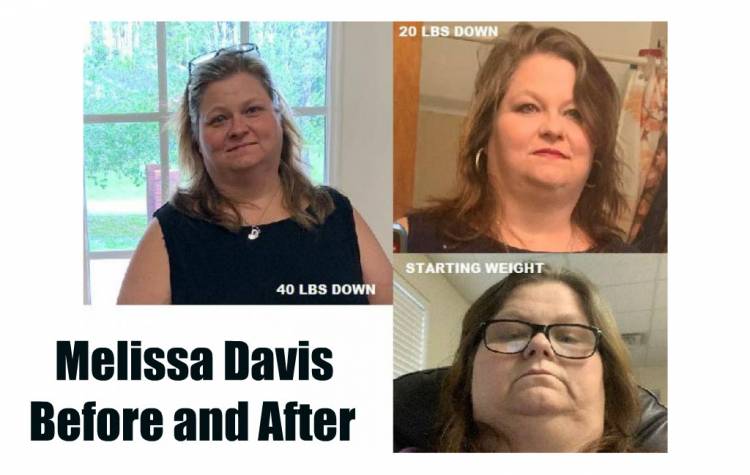 Melissa Davis suffers from hypothyroidism and PCOS, which even one of those alone would cause weight gain and trouble losing, but both together have made it impossible.
"I have struggled with my weight since I was 25, and am now 46. I was told due to my diagnosis that it would be very difficult for me to have children. We tried for seven years, and finally, with the help of fertility pills, I have had two wonderful children."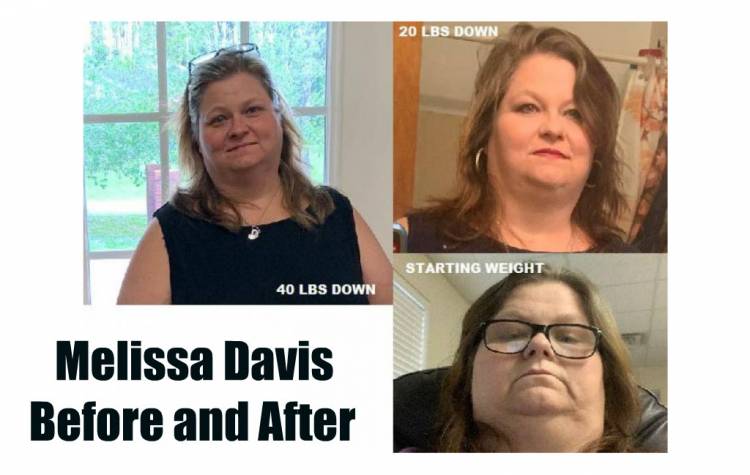 Melissa had tried everything to battle the struggles her illness leaves her with. She has tried Nutrisystem, weight watchers, and Atkins. Nothing worked. The one thing that somewhat worked for her was The Optifast Liquid Diet for three months but the progress didn't last long.
"I lost 20 lbs, but I never learned how to eat, so I gained it all back. I hated myself. I would look in the mirror and cry. I didn't recognize the person staring back at me."
We all have moments in our lives that bring our vulnerabilities to the surface. Melissa remembers going boat riding with her daughter and her daughter crying because she thought the boat would sink when her Mom got on.
"Kids don't hold back. I have been called fat by kids in grocery stores as well. I would want to crawl into a corner and cry. My kids are 15 and 18, and we spend a lot of time at friends homes, and I would always have to be the one to find a chair because I could not stand up for long periods. It was embarrassing. I had tried many times with the recommendation of many doctors to have surgery, but was always denied by my insurance."
Finally, Melissa's primary doctor at the time mentioned Pompeii Surgical to her as a recommendation.
"I thought it would be way out of my league. I was surprised at the cost, and the office where I work was very supportive by paying for half the cost. However, getting ready for surgery was difficult. I am from the South, and we are meat and potato people. I had to completely change my way of thinking and eating and that continues to this day."
Melissa awaited her surgery date and was getting concerned about the aftermath of surgery.
"My concerns after surgery, like most people was is this going to work. I was also concerned about the pain of recovery since I have had multiple surgeries."
Melissa had the Gastric Sleeve procedure and was back to work in 4 days.
"Literally the day after I got back from Pompeii Surgical. It was difficult at first getting used to a smaller stomach or pouch. I wasn't eating enough or drinking enough. Having Pompeii Surgical call me every week alleviated any worries I had. They were there for me, right from the beginning."
Melissa was elated when she put on her jeans and shirt, and they began to hang off of her. After three months she has already dropped a pant size and two shirt sizes. Her health is also so much better than it was before surgery.
"I used to have lymphedema in my legs. My ankles would swell so badly, and now I barely have any. My breathing is even better now. I have slept in a recliner for a year with back issues, and now I can sleep in my bed."
Melissa looks back on her life before surgery and realizes how much she wished she would have done, but was too uncomfortable to do because of her weight.
"We live at the gulf, and I never would go to the beach because I was self-conscious about my body."
She is excited about what the future holds and all that the surgery is doing for her. There are no regrets for Melissa, and she urges people not to wait to get this life-changing surgery that has completely changed her life.
"When I first pulled up at Pompeii Surgical, I didn't know what to expect. I walked in and was greeted very warmly. The nurses were very attentive. My Husband had a great time! He went to some of the restaurants and bars. They made sure they took good care of him. The beach house was awesome as well. Karina and others were super nice and supportive. I would love to go back for a visit. I know facing surgery is scary, and there is never a guarantee about complications, but living the way that I was was more detrimental to my life. I wanted to take it back, so I took that leap of faith. Three months out and 40 lbs later, I will never look back."