Jayson Maples Story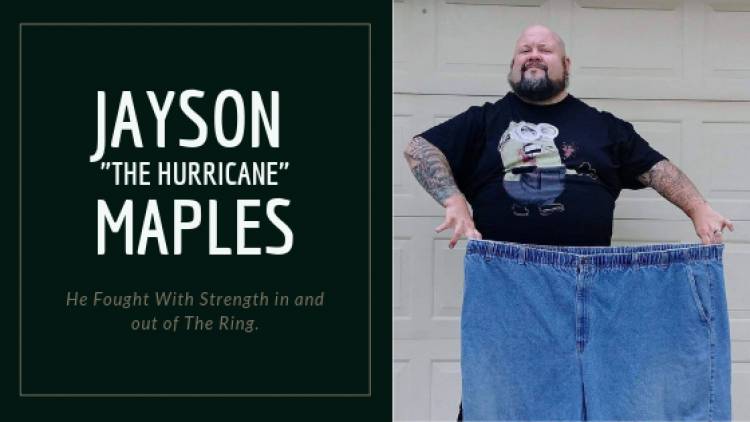 "As a comedian, I had no problem making other people laugh, but on the inside I began dying. I was in a miserable marriage; she would physically and mentally abuse me and make me feel like I was worthless. I was slowly gaining more weight as depression set in, and then it happened.......
I hit rock bottom in August 10th , 2008. I got really sick that morning. I had to be taken to the hospital by ambulance as I could not move. I was running a 105 temperature, and my blood was septic. It was on that trip to the hospital, that I also found out I was 575 lbs. I did not have a scale at home, and always just guessed maybe I was around 400."
Jayson Maples was always the "bigger kid" growing up. When he was younger, it was never that big of a deal for him, even into his 20's and 30's he used his size to his advantage. He was a professional wrestler by age 23, and out of the ring, he would be the butt of his jokes on stage where he did stand up comedy. However, as he would soon find out, health issues were no joking matter.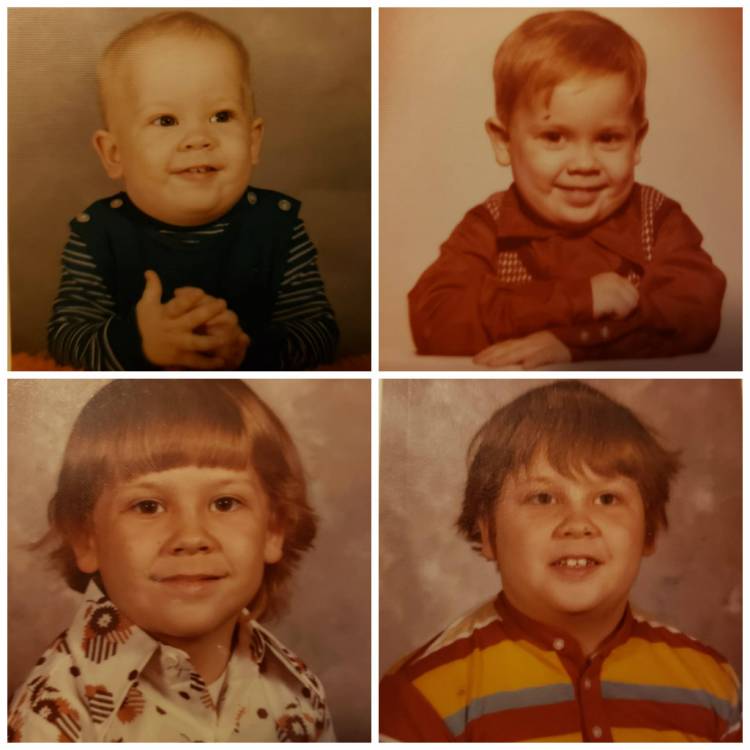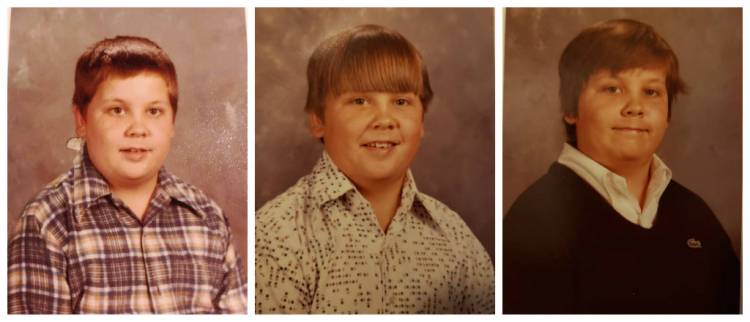 "During that hospital visit , I found out I was diabetic, had sleep apnea and that I was considered morbidly obese all at the same time. I wanted just to die, and in fact, I attempted suicide about five weeks later because I thought that was a quick answer to a temporary problem. I am so thankful my attempt was unsuccessful!"
Jayson was clearly devastated by not only his hospital visit and mindset but was overwhelmed that it had gotten to this point.
"I was lost and empty and felt I had nowhere to turn. Luckily for me, I realized I did not need to be miserable anymore. I decided I needed to start loving life again and started by loving myself. As luck would have it, I was at a point in my life that I was able to not only love myself, but I was also beginning to feel like I was someone who could be loved again. Then the turning point was meeting my current wife, Rachel ; who was a fitness coach."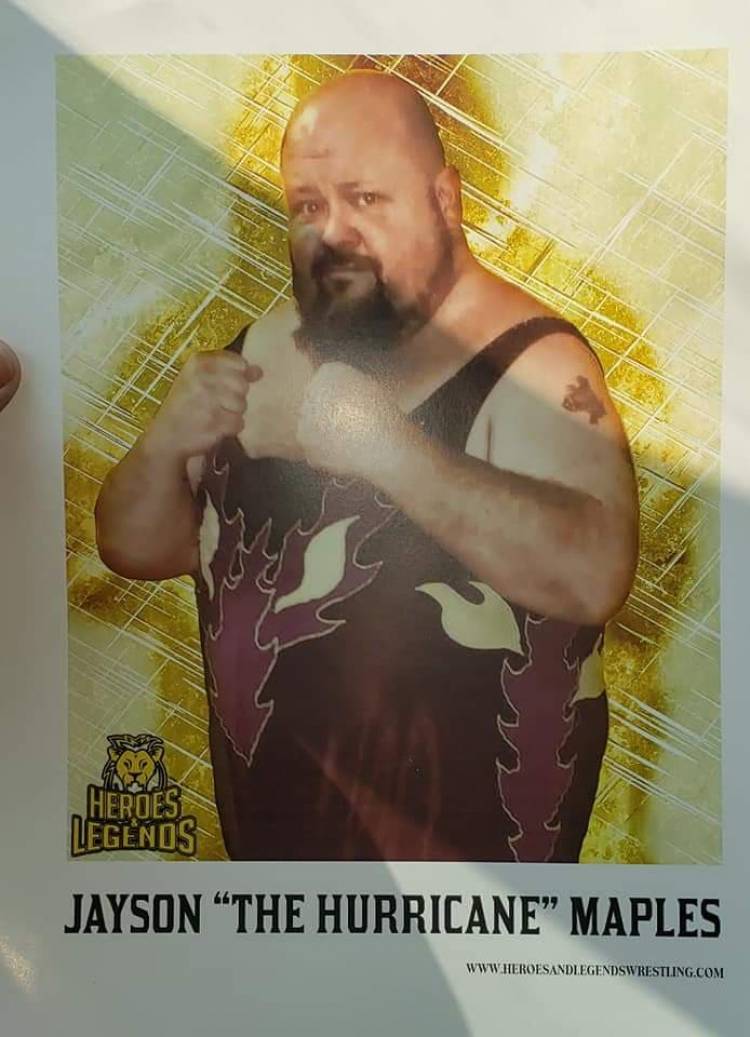 Before meeting the woman of his dreams, and hitting rock bottom, Jayson had tried every fad diet known to man. He tried Celebrity endorsed plans, deal a meal, the juicer, sweatin to the oldies, Shakeology, Weight Watchers, Beach Body.
"You name it, I tried it, but I was also complacent because I used my obesity to make others laugh and I was a national touring comic, so I thought that if I lost weight, I'd lose my gimmick and subsequently lose my job."
Jayson doesn't look back and wish he had done things differently. He knows that there are things he could have or would have done if things had been different, but enjoyed his life and knows that he has so much more life to live.
"I am happy with my life, some people say, "I wouldn't change a thing." yes, there are things I would have loved to have done had my weight not stopped me, but I also know that I can't cry over spilled milk, the best is yet to come. I feel like I have been born again."
Jayson's best friend Josh Anders called him one day and asked him to go to Pompeii Surgical as his companion as he was getting weight loss surgery. Jayson began reading up on, and researching Pompeii Surgical and decided that was also what he wanted to do.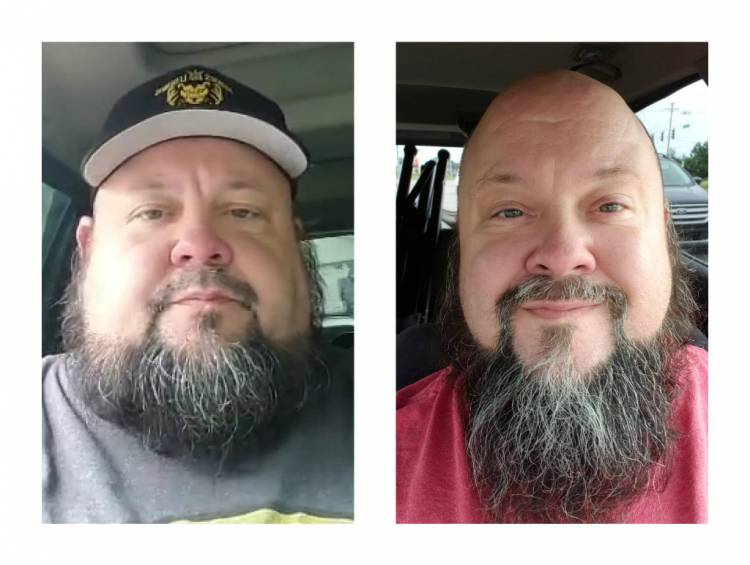 "My pre-op went well. I was diligent. I knew how to count calories and knew how to train. I was actually down from 570+ lbs to 433 lbs from the lifestyle change I had begun with my wife. Knowing I was going for surgery just gave me added fuel to the fire and dropped 30 extra lbs during the two weeks pre-op. My wife has been beside me and been supportive of me since day one. She is my best friend, my wife, and my trainer. The fact that I also have a 28-year-old son and three younger sons at home, 11, 7, and 3 years old that I want to watch grow up also added to my decision for WLS. I geared myself up that I was doing this not only for me, but for my family. It is not hard to stay on track when I remember that I want to be around for them."
Jayson had zero concerns going into surgery. He had the gastric sleeve with no complications.
"When I woke up after surgery and had my first cup of ice chips I was so happy, however I was in such pain from gas that it quickly made my ice chip smile go away. A little while later, Dr. G came to check up on me and fed me my medication off a spoon and let me pretend I was going to chokeslam him. Photo included. The Golden Boy was awesome."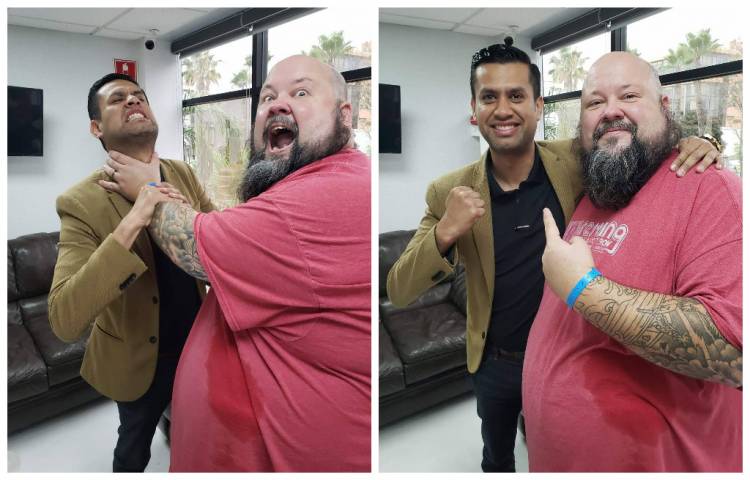 His first thought was that the surgery went flawlessly.
"The first couple of weeks, it no longer seemed flawless. I had moments of doubt and a few moments where I wished I had not done it at all. I had a hard time keeping myself hydrated, and into the 3rd week post-op I went to the hospital with dehydration. 6 weeks out and now I feel fantastic. My wish now is that I had done it years ago."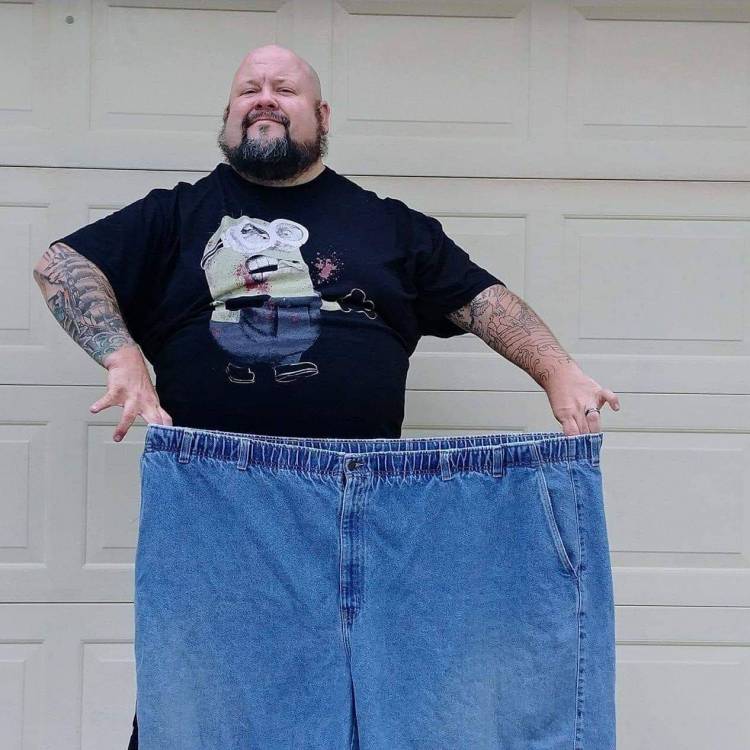 Jayson is now off his diabetic medications after ten plus years of taking them. He is also off his blood pressure medications and his anxiety medications. He also has a new sleep study scheduled as his doctor believes his sleep apnea is gone as well.
"Start to finish Pompeii Surgical was a great experience. From Javier who picked me up in San Diego, to the nurses who took this guy with deep veins blowing out and got the IVs going, the orderlies who kept bringing me popsicles and ice, to Dr. G who's skill most definitely has added years to my life, the translators who answered so many questions for me, and to the Beach House staff who took me shopping for Lucha libre masks and let me borrow their blood sugar meter as I had run out of strips. "Mr. Pineapple" for taking me to a great steakhouse for my meal before surgery, and everyone else who made my few days in Mexico seem almost like a vacation. To anyone on the fence about making the decision to do this, think of it as the tennis shoe campaign, and "Just Do It."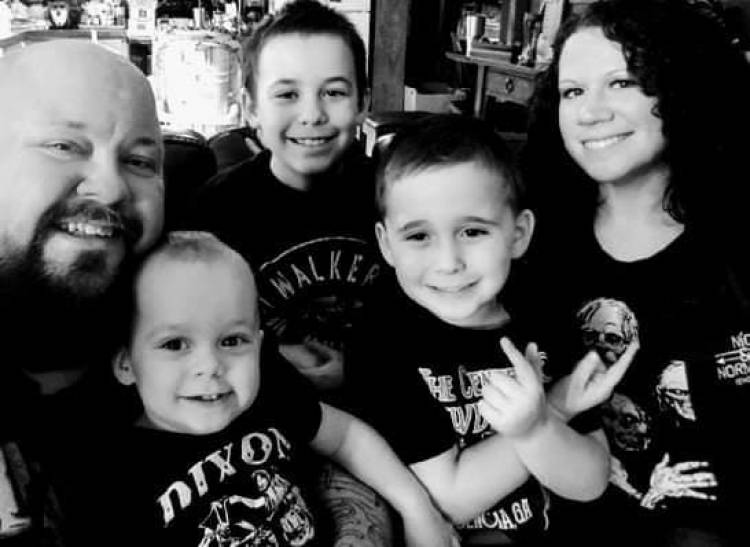 Jayson lives in Fort Wayne, Indiana with his wife Rachel and their 3 boys Cole, Owen & Noah. Jayson is still a stand up comic, a pro wrestling promoter and has authored two children's books.