"I would highly recommend Dr. Saucedo for the amazing skills he has." - Melissa Nemecek's Review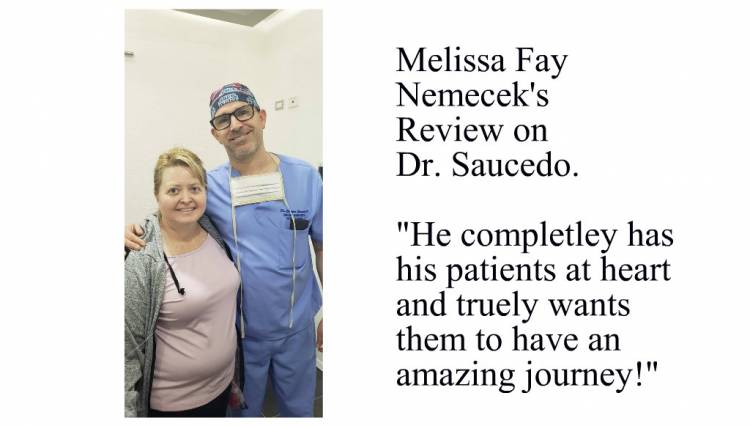 In reference to Pompeii Surgical's website Dr. Saucedo is a Board Certified General Surgeon. Dr. S Specializes in bariatric surgical procedures and has been a practicing surgeon for over a decade. Dr. S has many patients raving over his surgical procedures, and he has saved many lives according to a plethora of reviews on the Facebook Pompeii Support Group page.
Pompeii Surgical has very strict requirements in regards to which Surgeons they choose to join their staff. Dr. S has superseded those requirements and is an Award Winning Surgeon, specialized in the Gastric Sleeve Procedure, and only performs procedures on Tuesday through Saturday.
You can find all of his credentials on pompeiisurgical.com along with the ability to talk to patient coordinators with any questions you might have.
Melissa Fay Nemecek had her surgery at Pompeii Surgical with Dr. Saucedo. She had heard about Pompeii Surgical from her Brother, who had his procedure done by Dr. Saucedo about 2 years ago.
"I knew I wanted to go there from all the great things he and my Dad said about the facility. I planned on going with him but postponed it until Feb 30, 2019. I just liked what I read about Dr. Saucedo as a Doctor. I also was following another patients journey that had her surgery with him a month before my surgery."
Another aspect of her reasoning to choose Dr. Saucedo was his credentials.
"He had taken some post-graduate studies in comprehensive nutrition management in adult and adolescent obesity as well as had training in trauma surgery."
Melissa met Dr. Saucedo the day of her surgery and stated that she saw him every day after her surgery and that he came to make sure she was doing well, and comfortable.
"He was very friendly and spoke English so well that there were no language barriers. I got a very warm welcome from him initially, which put me at ease. He was eager to answer any questions me and my Husband had. He explained what to expect before and after surgery."
Melissa is highly appreciative of what Pompeii Surgical, and more specifically, what Dr. Saucedo did for her.
"I would highly recommend Dr. Saucedo for his professionalism, bedside manner, and the amazing skills he has. He even found out I had a hiatal hernia and he fixed it for me and didn't even charge extra. If I was in the US that would have been another added expense if not a whole different procedure that I would have had to come back for. He completely has his patients best interests at heart and truly wants them to have an amazing journey."