"Choose Dr. Saucedo and You Will Have no Regrets." - Angel Hayden's Review on Dr. Saucedo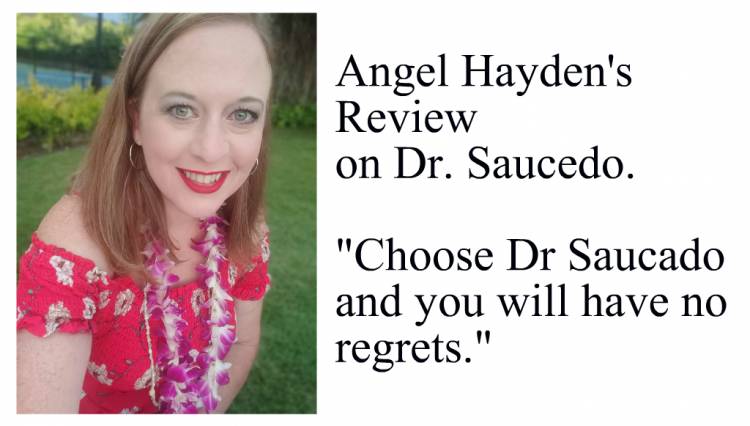 In reference to Pompeii Surgical's website Dr. Saucedo is a Board Certified General Surgeon. Dr. S Specializes in bariatric surgical procedures and has been a practicing surgeon for over a decade. Dr. S has many patients raving over his surgical procedures, and he has saved many lives according to a plethora of reviews on the Facebook Pompeii Support Group page.
Pompeii Surgical has very strict requirements in regards to which Surgeons they choose to join their staff. Dr. S has superseded those requirements and is an Award Winning Surgeon, specialized in the Gastric Sleeve Procedure, and only performs procedures on Tuesday through Saturday.
You can find all of his credentials on pompeiisurgical.com along with the ability to talk to patient coordinators with any questions you might have.
Angel Hayden had her procedure done with Dr. Saucado at Pompeii Surgical and had been assigned to him once she finally booked her appointment. Dr. Q is an avid participant in the social media page due to his excitement at being able to connect with his patients, and potential patients, so Hayden was initially hoping to get him for her procedure.
"I had followed Pompeii Surgical online through their Facebook Support Group for a year while I saved my money. The only Doctor that really ever posted on there was Dr. Q and he was the main surgeon, so I had hoped to get him. Dr. Saucado was assigned to me when I was finally able to make an appointment."
Angel Hayden asked about the decision to place her with Dr. Saucedo and was confident with Dr. Saucedo after getting her answer.
"Like mentioned, I had hoped for Dr. Q, but I was told he handled the more difficult cases or people who had a higher BMI than mine. After finding out I had Dr. Saucedo, I went to the support group to see who had used him and what they had to say about him. After being part of the support group a year, you really get to know some of the people and trust talking to them and what they have to say."
Dr. Saucedo has his credentials listed on the pompeiisurgical.com website, but Angel felt comfortable enough with his reviews not to check his credentials.
"I don't know why, but it never really crossed my mind to check his credentials. I think because everyone who had used him in the support group just said how great he was. Absolutely no one said anything negative. It put my mind at rest. Since my surgery, I have told everyone in the support group to have no worries when it comes to Dr. Saucedo.
Most patients do not speak to their physicians until the day of surgery, however, Pompeii Surgical's staff keeps close contact to all patients pre and post-op to keep open lines of communication.
"I spoke to Pompeii Surgical a lot of pre-surgery but mostly with Jack. I don't think I actually spoke to my Doctor until the day I arrived at Pompeii Surgical. I think I may have spoken to Dr. Q once on the phone pre-surgery when I was getting ready to book. Dr. Saucedo came to check on me twice after surgery. Once that night, and once the next day. I was checked on constantly by the nursing staff. I had absolutely zero complications, so I didn't have to be seen often by the Doctor."
Angel first met her Dr. the day of surgery. She was first sat down to fill out all of her paperwork and then was taken to her room to change.
"I met Dr. Saucedo about 30 minutes before my surgery. He went over everything I should expect and asked if there was anything I wanted to tell my family when he called them. He called my Mom and gave her an update in Houston as soon as the surgery was over. He later came to my room to check on me and told me what my Mother had said. When I was home in Houston, my Mom told me how nice he was to her on the phone and that he had told her how great I did in surgery and made her feel a lot better. Dr. Saucedo had a terrific, bedside manner. You will instantly like him. He explained everything to me very well, so I knew exactly what was going to happen and what to expect. You always see pictures of him posted in our support group that he takes with his patients."
Angel has nothing but good things to say about Dr. Saucedo and is very willing to express those opinions in the support group and to anyone who may be struggling with fear of the procedure, or doubts in any fashion.
"Dr. Saucedo's amazing bedside manner instantly puts you at ease and makes you comfortable. If you think about it, I just flew to another country, and I was about to have surgery, and I was alone. I should have been scared, I should have been nervous, but I wasn't. Everything went perfectly from the minute I got off the plane."
Angel truly believes that Dr. Saucedo and Pompeii surgical made I life-changing impact in her life.

"Choose Dr. Saucedo, and you will have no regrets. He and Pompeii medical saved my life or gave me my life back. I just celebrated my 1st anniversary from surgery. I lost 120 pounds. I never had any complications. I have never had heartburn, sickness, I never really struggled with anything. I just got back from Hawaii celebrating all the accomplishments from this last year, that would have never been possible without Dr. Saucedo."
I asked Angel if there is anything she would like to say about her Doctor to help people feel more comfortable in their process of choosing a Doctor, and she said this:
"You will love the results that you will get by using Dr. Saucedo. Over the last year since I went, I have sent several family and friends to him, and they have loved him just as much as I did. I had a friend who had her surgery in Houston and spent 16,000. I knew I couldn't afford that. I went to Pompeii Surgical and spent less than 5,000, and I know my surgeon was just as good, if not better than hers, at a fraction of the cost. At Pompeii Surgical, you are getting a very skilled and professional surgeon at a price you can afford."