"Dr. Galindo Was The Best in My Eyes" - Jennifer Martinez Review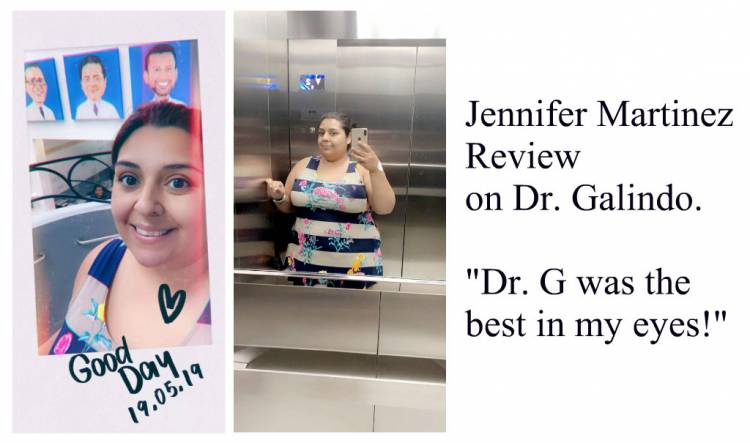 Dr. Galindo is titled 'The Golden Boy' due to his sense of humor, jokes, and patient care, and is a Board Certified General Surgeon. He is currently practicing his fifth year of bariatric surgeries and has assisted world class surgeons throughout his career.
Dr. G spends quality time with his patients before their procedures because he understands that these procedures can cause some severe stress and anxiety and he wants to calm his patients before they undergo surgery. He enjoys getting to know his patients and helping them have the best experience possible.
You can find his credentials and more information about Dr. Galindo at pompeiisurgical.com
"I first heard about Pompeii Surgical from my Aunt, who went there to have her Surgery and highly recommended the Hospital to me. I added the Pompeii Facebook Support Group and read and read all about it. I felt excellent about going there after my reading."
As most of our patients end up researching through personal stories on our Facebook Support Group, Jennifer felt more comfortable with her decision after hearing all the success stories, and all the raving and high reviews of our Surgeons.
"I didn't have any contact with Dr. G before the day of surgery, but I had plenty of contact with the staff."
The Pompeii Surgical staff maintains contact with our Patients before and after Surgery, and it is not abnormal to only meet your Doctor the day of Surgery, due to the Hospital being located in Mexico, but the staff was there for Jennifer and made her feel comfortable prior to arriving in Mexico.
"I met Doctor Galindo the day of my Surgery, and he was so attentive. Before I even knew he was my Dr., he would pop into my room and check on me with a warm smile. He was extremely professional but also made me feel like I could be his Cousin. He was so nice and relaxed, which made me comfortable. He was never in a hurry and listened to every concern I had and explained everything thoroughly."
Jennifer was happy with her experience with Pompeii Surgical and was so taken with her Doctor that she was more than happy to submit a review for others to read before their surgeries.
"Dr. Galindo was the best in my eyes, and plenty of others as well. I don't have one negative thing to say about his practice at the Hospital. He took care of me and made me feel like I was the only one he was working with. He is a happy person, always smiling, and very genuine. I would most definitely choose him again."