Creamy Alfredo Sauce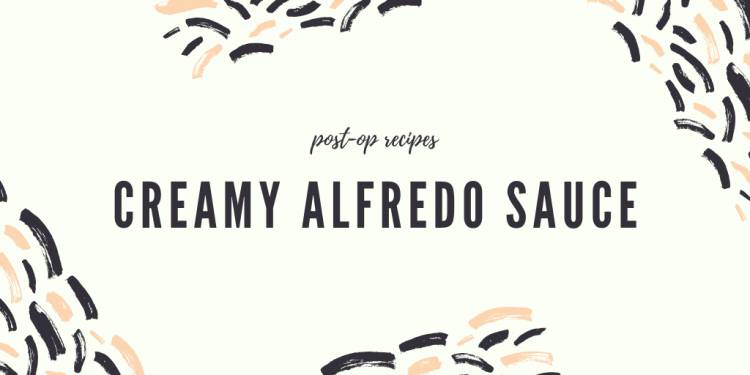 After you have your Bariatric Procedure at Pompeii Surgical, you will have to reintroduce food to your system slowly. Your portion sizes will be much smaller than they were before as well, due to the new size of your stomach and not wanting to encounter any stretching of the stomach. In order to reach your health and weight goals, the smaller portion sizes will help you lose weight quickly. It is essential to eat a variety of different foods that have nutritional value so that you are getting everything that your body needs to be healthy.
We at Pompeii Surgical are hoping to provide you with all the tools you need to help your recovery go smoothly, and to continue to be with you on your journey as you reach your new health goals. We are hoping with this section to be able to provide you with some recipes for you to try out that have been selected carefully by us, and some recommended by our patients who have personally tried them out.
We know how overwhelming the aftermath of this surgery can be, and the lifestyle change can be intimidating. We hope to make it easier and a little fun by helping out in any way we can. Rest assured that over time, this new way of eating and viewing food will become a part of your everyday routine.
It is important to eat balanced meals with small portions, follow a low-calorie diet, eat slowly, and chew your food thoroughly so your body can process it. It is helpful to keep a daily record of food portions. After surgery, it is also very imperative to drink extra water in between meals to avoid dehydration.
Do not hesitate to reach out to Pompeii Surgical with any concerns about diet or anything pertaining to your health after surgery.
Light Creamy Alfredo Sauce
SERVINGS: 8

INGREDIENTS
1 Tbsp. extra virgin olive oil
4 cloves garlic, minced
2 cups skim milk
1 cup chicken broth, warmed
3 Tbsp. all-purpose flour
½ tsp. salt
¼ tsp. black pepper
½ cup grated Parmesan cheese


DIRECTIONS
In a medium saucepan, heat olive oil over medium heat.
Add garlic and sauté until fragrant.
Add flour and mix well until thick paste is formed.
Slowly whisk in warmed chicken broth.
Add milk, salt and pepper.
Cook over low heat until smooth and thick.
Stir in Parmesan cheese to finish.

NUTRITIONAL ANALYSIS PER SERVING
Serving size: 1/4 cup sauce
Calories: 71
Fat: 4 grams
Carbohydrate: 5 grams
Sugar: 3 grams
Protein: 5 grams
Serving suggestion: Serve over pasta or as a topping for cooked boneless, skinless chicken breast, salmon, or other fish.