Constance Julius "I am forever grateful for Dr. Galindo."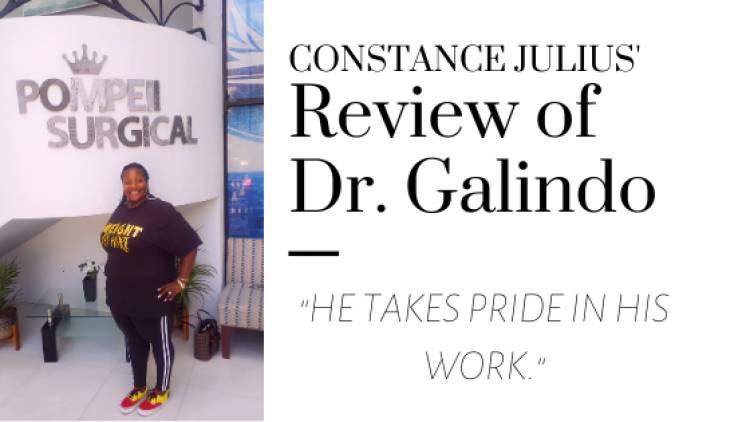 Dr. Galindo is titled 'The Golden Boy' due to his sense of humor, jokes, and patient care, and is a Board Certified General Surgeon. He is currently practicing his fifth year of bariatric surgeries and has assisted world-class surgeons throughout his career.
Dr. G spends quality time with his patients before their procedures because he understands that these procedures can cause some severe stress and anxiety, and he wants to calm his patients before they undergo surgery. He enjoys getting to know his patients and helping them have the best experience possible.
You can find his credentials and more information about Dr. Galindo at pompeiisurgical.com.
At Pompeii Surgical, you will find nothing but competent Doctors, and in most cases, your Doctor will be assigned to you depending on your specific needs for your procedure. Dr. Galindo is Pompeii Surgical's Golden Boy. All who meet him love him; such was the case with Constance Julius, who had Dr. Galindo assigned to her when she applied for surgery.
"He was chosen for me. I looked him up and what I did find were all positive reviews. And I spoke with a dew people that had him. All good outcomes."
Constance, like most, had a lot of contact with Pompeii Surgical prior to her surgery but no contact with her Dr. This is because the surgery center deals with all the questions and concerns before and after you leave the facility. Pompeii Surgicals Doctors want to help as many people as they reasonably can and are booked pretty solid with operations. You will meet your Doctor before your surgery when you arrive at the facility, and they will all make sure you are comfortable and confident before taking you back for your procedure.
"I only had contact with the surgery center. I met my Doctor the day of surgery. But I was totally fine with that. Me and my dr are actually Facebook friends now and we talk weekly which makes me happy. Especially bc he lives in Baja, California, and I live in South Carolina."
Constance met her Doctor an hour prior to her surgery. Still, between the communication with the surgery center before her surgery and the talk with Dr. Galindo at the facility, she felt at ease and completely informed. Pompeii Surgical's goal is to answer any and all questions and make sure that you know exactly in detail what your procedure will be and why. You will be made to feel entirely in the know and comfortable before you go back for surgery, and if you are feeling extremely anxious, you can be given something to calm the nerves before anything.
"Dr. Galindo was very caring and compassionate. He takes pride in his work. Pompeii Surgical answered every question I had. I didn't feel nervous at all. Dr. Galindo is an amazing person. He was chosen for me, and I'm forever thankful. He has the best bedside manners that I have ever received. He is sweet and very caring. He has a smile that lights up the room. All of those things are important to me."
All of Dr. Galindo's patents describe him the same. A Dr. who cares deeply for his patients and his profession. A man who can make you feel at ease with one conversation and cares enough to follow up as much as needed. Constance found that he was not only a Doctor but someone who offered her the tool to succeed and became a lifelong friend on her journey to self-discovery and health.
"Dr. Galindo is very down to earth. He has a great sense of humor. He was there for me every step of the way. His knowledge of bariatric surgery was an important factor for me. While he is a young doctor he is very experienced in his field. I'm so thankful he was chosen for me. I would go through this process a hundred times over if I knew he would be my surgeon."