Christy Rolf, "It's My Turn to Help Someone Else."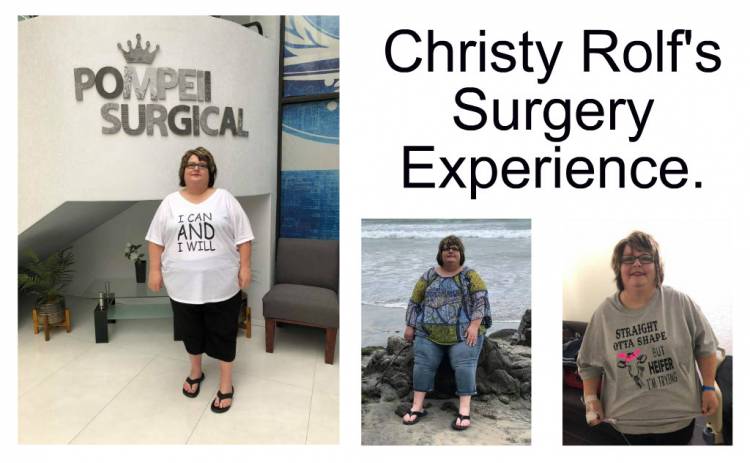 Christy Northcutt Kennedy Rolf is five days out from surgery sitting at a hotel on her way home to Texas. She has granted me an interview about her surgery experience, and five days out sheds a fresh perspective for our readers.
"Just getting back to the hotel. Since I have a few minutes, let me share my experience. I was an observer in the Pompeii Surgical Facebook Support Group for a while trying to decide if this was for me. I finally set my date for June 3rd, and everything fell into place."
If you haven't read Christy's personal experience article, she had tried to get approved for surgery in the US but was denied, as many of our patient's experience. She heard about Pompeii Surgical from her Doctor and decided to give it a chance, although she was approved she was still debating on whether or not it was in her best interest to have this surgery in Mexico. She prayed for a sign and when she went over all the finances and saw what the final amount would be that she had to pay she realized that the amount they quoted was the exact amount to the penny that she had in her rainy day savings. She then knew that this was the right move, and with the support of friends and family, she took the leap of faith.
"I did read some comments on the support page that scared me to death and made me second guess it. I prayed about it, and I knew I had to do it for me. We all know everyone is different, and I didn't do this to make myself pretty or skinny. I have always had great self-confidence in the body I have, but I'm not healthy. I want to enjoy life, so this is my start."
Christy is 48 years of age, and before her pre-op diet, she weighed 348 lbs. After the pre-op diet, she lost a significant amount of weight and day of surgery was 318 lbs.
"Daniel picked us up at the airport and took us to Pompeii surgical where we did paperwork, bloodwork, and an EKG. Then he took us to the beach house, which was amazing. Karina and Pineapple were wonderful hosts. They gave us a cellphone to stay in touch. Anything we needed they made it happen. They took us shopping and to eat. Everything you would need it at the beach house. We never carried our bags, not once. Everything is so clean and nice. I have plenty of pictures. I had Dr. Galindo, and I could not have been more pleased. He had such a kind spirit about him and was so caring."
As per usual, Dr. Galindo sat Christy down before surgery and discussed with her what was going to happen and made sure she was calm and comfortable.
"My surgery went well. No nausea and minimal gas pains. I overdid it afterward because I felt so good so I am sore today. You hear some stories about things being dirty or equipment being out of date, but let me tell you that this is not true at all! Everything was so clean and up to date. The staff, oh my they are the best there is, not a single rude person there. They took excellent care of us. Never did I feel worried or scared, or felt that there was a language barrier. So if you're thinking this might be for you don't be scared. I give credit when credit is due, and I could not have been more pleased. I never had to even ask for meds. They gave me everything I needed to make me comfortable. If you're scared, message me, maybe I can help you. I'm grateful for all of the support I got when I was asking all of my questions, so it is my turn to help someone else! God Bless."
Christy is more than happy to share her experience, and you will see some of her posts on the Support page. Look her up and ask her any questions you might have and she will share with you anything you would like to know about her experience and what you might expect. As with everyone your experience will vary depending upon how soon your surgery is after you arrive etc. One thing you can expect is a beautiful facility, an excellent, caring staff, and fully credited surgeons who are carefully selected and have wonderful bedside manner. Good luck on your journey!