Are You a Good Candidate for Bariatric Surgery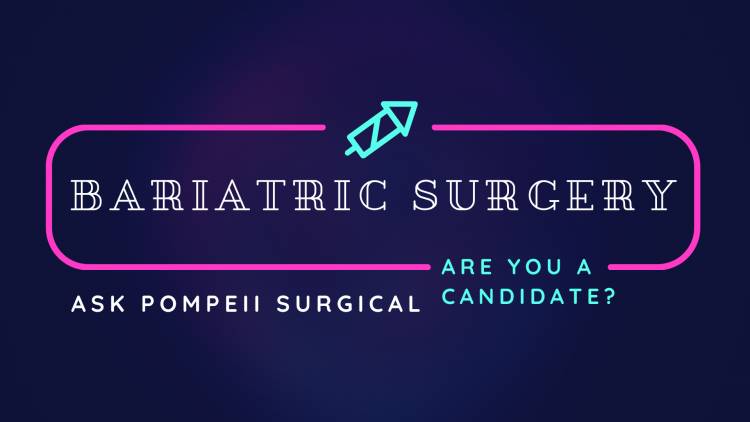 Do you think bariatric surgery is the right choice for you? If you are here, and you are researching it very well may be the right path to lead you to a happy and healthy life. Some things to take into account are your BMI and whether or not you are a candidate for surgery with respect to your weight. Also to consider is your comorbidities. Whether or not you have a medical condition in addition to your weight. Patients who have sleep apnea, type 2 diabetes, pre-diabetes, hypertension, and many others, are good candidates because the surgery will more than likely make these issues disappear. Many of our patients end up not only losing weight but also losing those comorbidities as well.
Of course, Pompeii Surgical will make sure you are a good candidate for a successful complication-free surgery. You will call them or fill out an application online. If there are medical records needed, Pompeii Surgical will make sure everything is checked over to guarantee you are the right candidate for this procedure. The surgery will not be performed if your Doctor in any way feels that it would not be safe or in your best interest.
Patients have all sorts of reasons for wanting bariatric surgery, and at all different phases of their journey. Whether they want preventative care, they were having medical issues that were weight-related or made worse by the weight; some don't have medical concerns, they just can't seem to lose the weight. Whatever the reason, bariatric surgery is there for you as a tool, not a cure-all. It only works if you do the work. If you do not take it seriously, you can stretch your stomach back and gain the weight all over again. This surgery is only for those willing to make the change and to make it permanent. That's not to say you won't slip up, but the trick is to take it day by day, and even if you backslide or make a bad decision in terms of eating, you can always make the right decision and get back on the right track.
Have you been unable to lose weight or keep the weight off?
Have you tried exercise and lifestyle changes but have not been successful in losing weight stemming from that change?
Do you have any type of medical condition that causes weight gain and inability to lose?
Do you understand that this isn't a cure-all, that this is a lifestyle change with a tool to help you keep the weight off?
Can you commit to yourself to change what you need to? Address the mental issues you may have that cause you to overeat?
If you answered yes to any or all of these questions, bariatric surgery is well worth looking into for you, and Pompeii Surgical will answer any and all of your questions to help you along in your journey to a healthier and happier you.
If you have not seen our Facebook Support Group check out Pompeii Surgical Facebook Support Group, and you can also ask any of our thousands of patients any questions you may have and will get honest answers. Good luck on your journey.