Brittany Crawl Chooses Life, and gets her Life Changing Surgery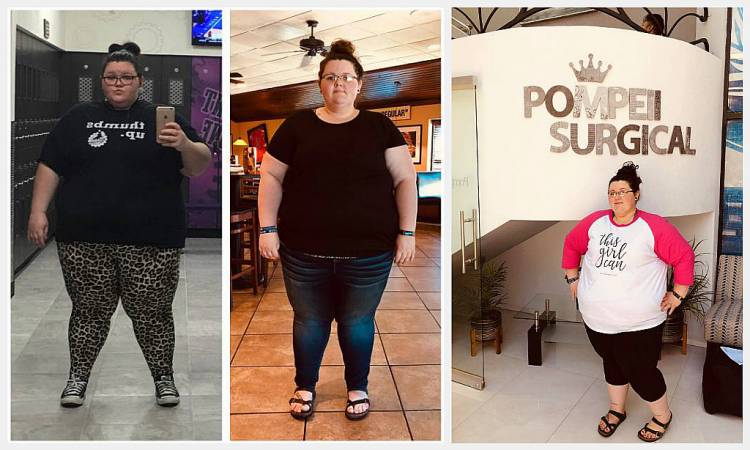 "If you fail it's ok, get back up and try again. In life, you have to choose you. You have to choose life. It's not a sprint but a marathon, and it's going to take work! But don't give up on you! You have a purpose and a reason, so choose life. Remember it's always a crawl to happiness."
Brittany Crawl had desperate strife with her weight her entire life. Now in her early 30's she is eager for a lasting resolution.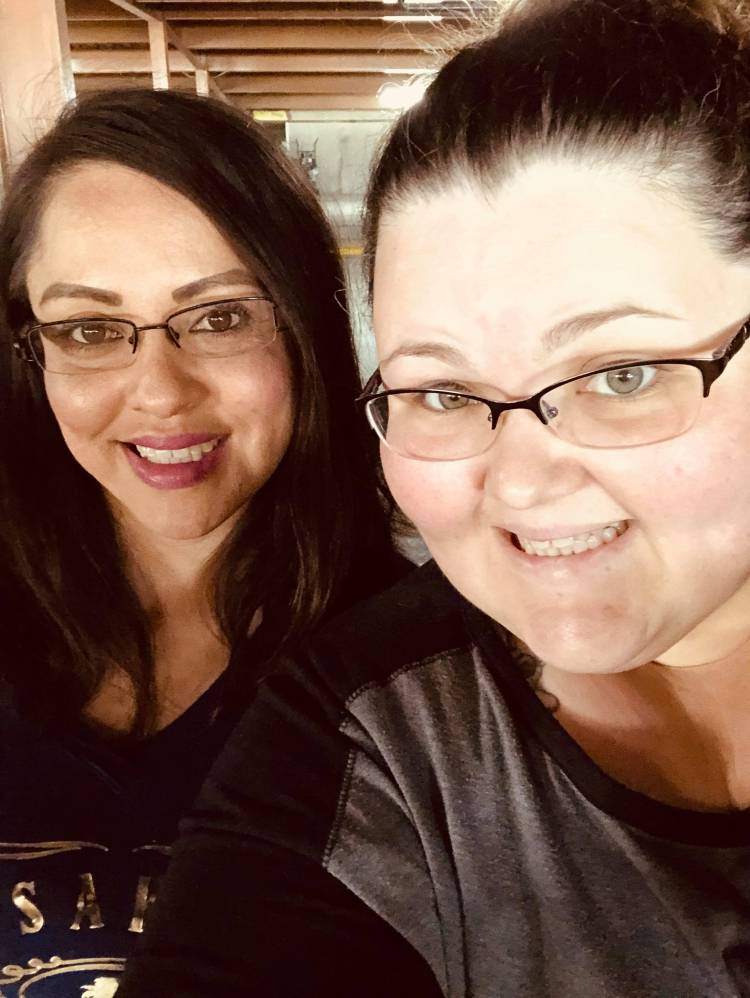 "I'm 32 now and became a Mom at 28. It was just time to change. I felt like if I didn't change, I wouldn't be here to see the kids finish High School or get Married and have their own families and that's super important to me. To see the next generation in my little family."
Brittany had many devastating moments that occurred in her life due to weight. She carries these moments with her, but instead of permitting them to crush her down with depression, she used them for motivation for her upcoming surgery. Knowing where she came from and how severely she needed to change, propelled her to follow through.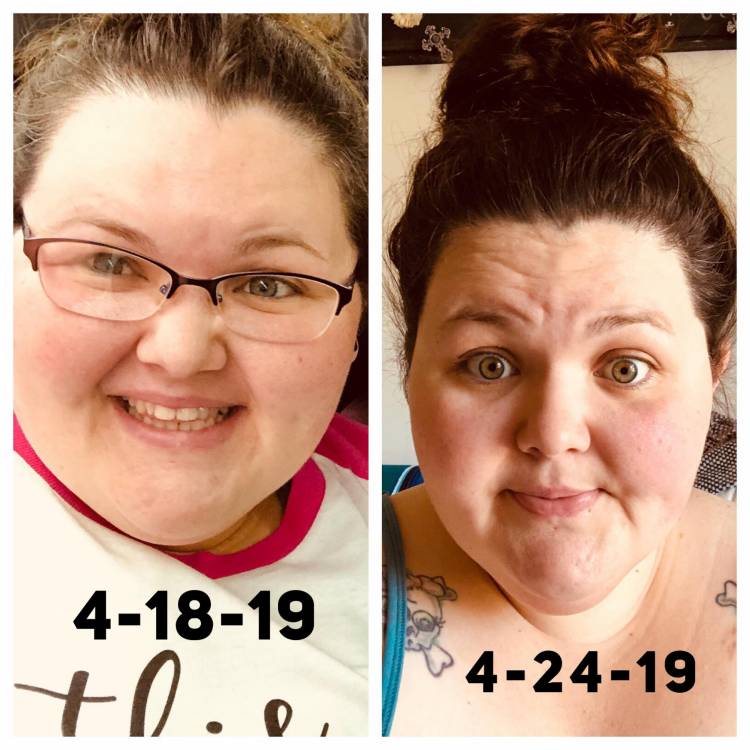 "In 5th Grade, a special needs child asked if I was pregnant in front of the whole class and they all laughed. It was a major trauma for me. Later in life, I was always picked on for being fat...I started having bad back pain, and it would lead me to be hospitalized. I remember once I was living in a townhome and I was stuck in bed on the top floor. I had to scream help from my bed. I was completely naked because I had just taken a shower and just laid down. My back completely went out. My neighbor came because she heard my screams. There I was just laying bare! It was embarrassing. I had to call out for help because I couldn't reach my phone that was on my nightstand. Once the ambulance arrived, I was taken to the hospital. I couldn't even fit the stretcher right to be taken down the stairs. Luckily my Mom got there before them and dressed me, and she and an EMT held me as they got me down the stairs, ya that was embarrassing."
Once Brittany had become a Mom she was exceedingly more confident that she needed a change. She tried all the diets one could imagine. She even tried eating cucumbers for a week.
"If there was a magic pill, I took it. I even tried Keto. It was then that I figured out that all of those diets didn't have a restriction. If I stopped the diet and ate a burger, it didn't physically hurt me, or put a stop to me failing. I picked surgery because I now have a tool that won't allow me just to keep eating. I have a wall, restriction!!!! I can't just eat what I want, or I will be sick and in pain, and I don't want that."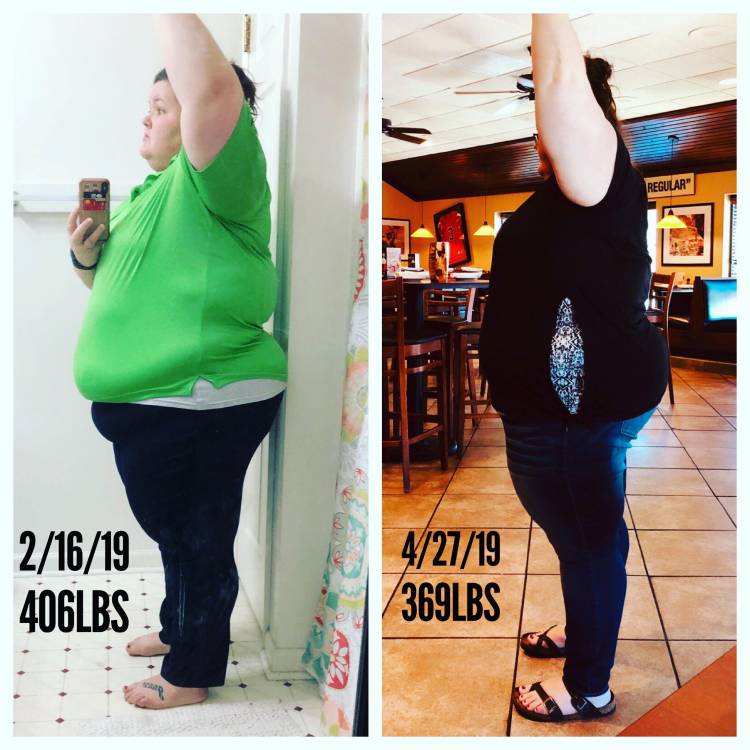 Like others, Brittany looks back and wishes she had done more, been more adventurous.
"I wish I danced more."
Brittany's weight and her fear of being noticed and laughed at prevented her from executing the things she craved experiencing, and that was just more drive for her to do this surgery. To take back what she had lost by avoiding life.
"I started preparing in October of 2018. I did random pre-op days where I would try to do the pre-op the whole day to make sure I wouldn't fail when it came to the real thing. I treated all the Holiday's as if they were my last ones and I just enjoyed them. When 2-16-19 came around, and I was 406.... the biggest I had ever been on the scale. That is when I got serious. I did pre op all day, but one meal. I wasn't taking it seriously because I was afraid of all I was going to be missing, but when I saw that 406 it changed the game. I got to 376 before my surgery on 4/18/19."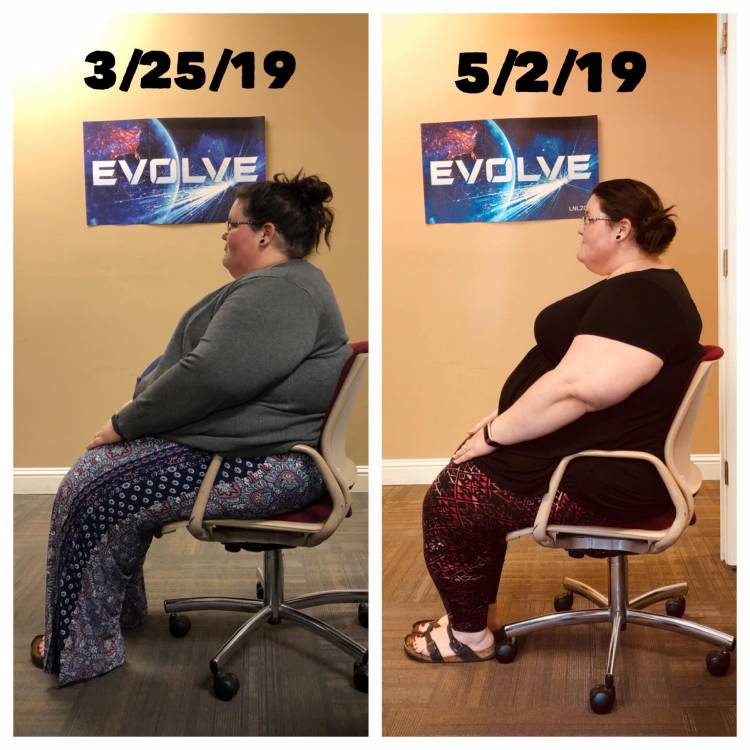 Before the surgery, Brittany was depressed and showing herself a lot of hatred for getting to this point.
"I used to bug my Hubby all the time out in public and ask him if that person was bigger than me and he would always answer and shake his head. I used to go over and over in my mind how he could even love a fat slob like me. I had a lot of mental things going on."
Brittany learned about Pompeii Surgical through some of our active patients Tracie and Chris Sizemore.
"They have had some amazing results, and I just wanted to hear more and ended up choosing Pompeii Surgical for that reason. Once I heard about it and saw what was going to happen, I just jumped. I looked at it as my last chance and knew it was the only option I had left. It was my last resort!"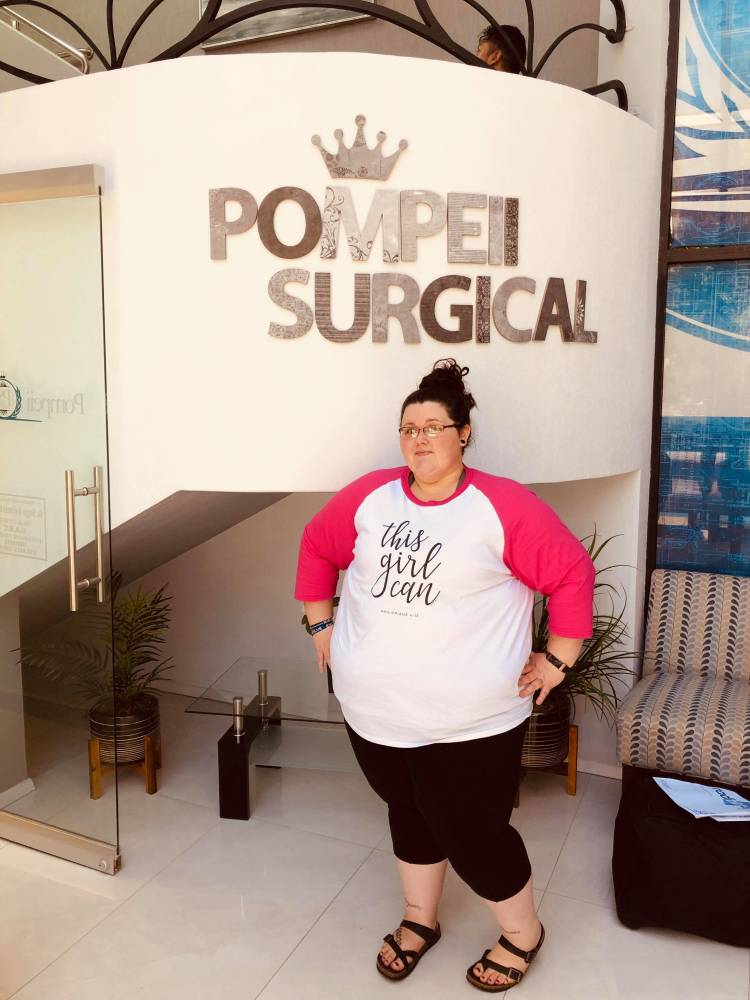 Brittany had the Gastric Sleeve Procedure and had 80% of her stomach removed.
"After surgery I was fine. I didn't have all the pains that others were having, and I think that might be because of how long I did pre-op. It was easy. I get tired and I just really want to eat a piece of food that's not mush, but all in all, it's been easy. I haven't regretted doing it, and I just kept thinking this is for my family. I'm choosing life, and I think it will all work out."
Brittany only had her surgery about 15 days ago but is already starting to see results.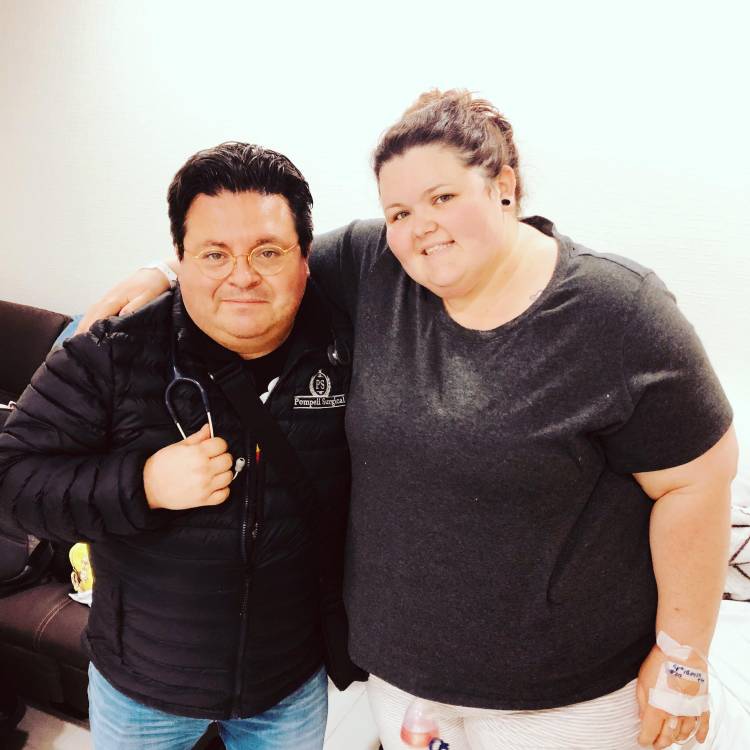 "Today I put on a bra that I typically have to have my Hubby fix in the back because it rolls up, but today it didn't. I dressed by myself, and it felt great! Also yesterday I put on a pair of 22 size pants and a 2x shirt, and they fit!!! I typically wear 4x and 26-28 size pants. I feel great. Getting stronger and getting my energy back every day!"
Brittany sends the message out there that you may have failed and failed and failed again, but you can get up and try again. You can get up and try something different, try something lasting. You can see these results that so many patients from Pompeii Surgical have, and if you are reading this, you are interested.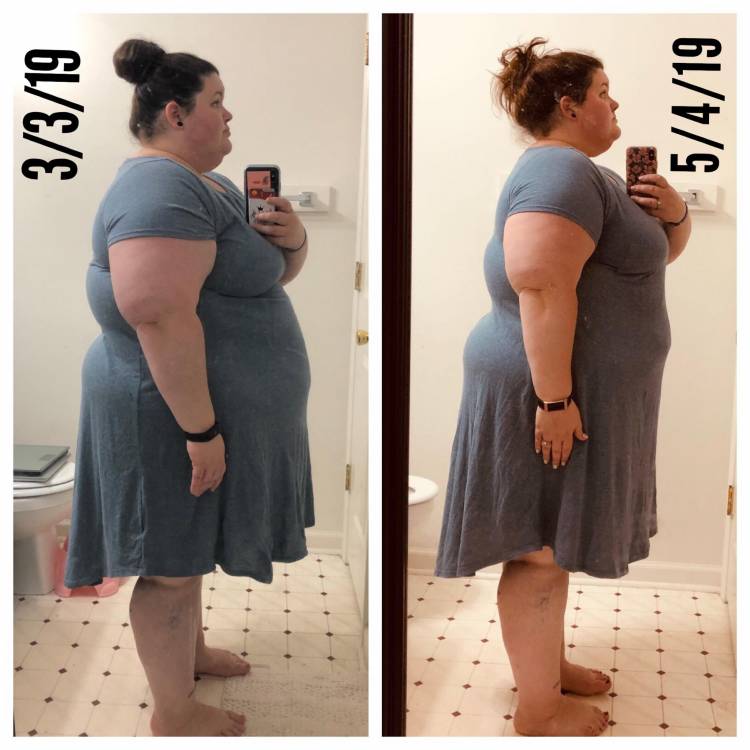 "Choose Life! Even if surgery is scary. Death is forever, and it comes sooner than you think. If you don't do something to change your health, it will be here sooner than expected. Pompeii Surgical was amazing. I would recommend Pompeii Surgical to anyone. If I had to do this surgery over again, I would do it 10,000 million times again. The nurses, doctors, translators, and staff were amazing. They are a top-notch facility. When the nurses come in to change shifts, they read your chart to the other nurse, so they know exactly how you are doing. They tell you everything they put in your IV before they do. They are at your beck and call and talk about Clean! That is the cleanest facility I have ever been in. You could lick the floor and know you are not going to get sick. The surgeons and anesthesiologist go over everything in detail before going in. They make you feel safe and secure that everything is going to be ok. I know for sure if something were going to happen on that table they would do everything in their power to save me. It made me feel great."