Our Patients Review Where They Stayed for Their Procedures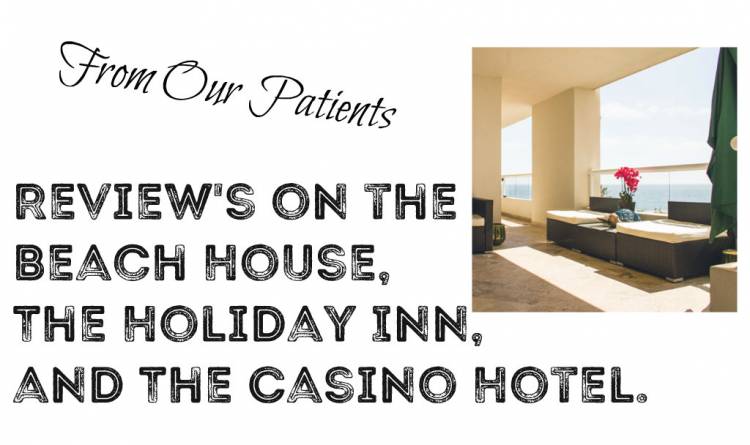 Pro's and Con's of staying in the Beach house, Holiday Inn, and Casino by our Patients.
Brittany Crawl: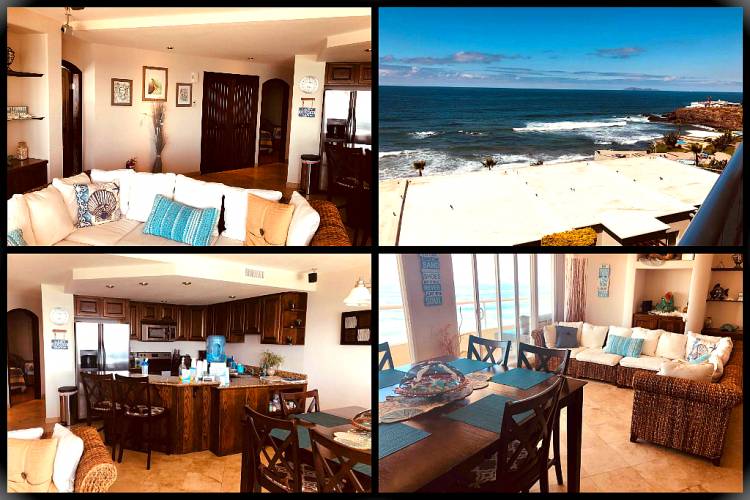 "So here's my experience using the beach house vs the other options.....

A few of my other sleeve brothers and sister went with the Holiday Inn or Casino and they didn't get near what the Beach House did. The Holiday Inn said she has a few things of broth at her room and the casino said he didn't have anything.

In the Beach House we had a kitchen stocked full of protein, jello, water, juice, and gatorade. We had an ocean view and we had mister pineapple. Karina came and showed us how to make broth and Jell-O- shots.

Pineapple took our companions to eat and us all shopping. I felt safe and I got to relax by the ocean and just heal. It was super nice. You can sample and take any of the broth and proteins with you. You also get to build a bond with patients going through the same thing as you. These rooms are up to $150 extra depending on room or penthouse.

If I were you I'd spring for the Beach House. Also I didn't stay at the Holiday Inn or Casino so I do not know from personal experience but from what I hear the Beach House is the way to get all of the perks. This is our beach house. There are a few others, yes you do share with one other patient but you have separate rooms and bathrooms. You only share the kitchen and common area."
Laurie Kernan-Carey:
"It was amazing. I stayed at the beach house with my daughter after surgery. The condo was beautiful. The view was picturesque. Corrine taught us how to add protein to our broth and Luis took us shopping. when we returned from shopping another Pompeii patient and I went and walked along the beach. My daughter and another companion went to a recommended restaurant while another couple of girls went and had their nails done. The people I met are all friends on facebook and I believe will be lifelong friendships. I highly recommend staying at the beach house. It felt like a vacation than recovery from surgery."
Hillary Shatley:
"We stayed at the beach house but ended up transferring to the Holiday Inn because it was 85 degrees in our condo lol. We loved the amenities at the beach house. Having access to proteinbroth, shakes, and the beach made recovery a lot easier in my opinion. However I kind of feel like we got the best of both worlds because we were able to use everything at the beach house. We walked the beach, shopped, my Hubby got some awesome sea food, and then we were able to have the comfy privacy of the Holiday Inn to get some much needed sleep."
Suleiry Matos:
"We came in the night before surgery and we were supposed to stay at the Holiday Inn but that hotel was booked so they took us to the Casino Hotel which it's proper name is "Hotel Pueblo Amigos/Plaza Casino Tijuana." That hotel was awesome, very spacious, more spacious than the Holiday Inn. We even played a few slots the morning before surgery. At Pompeii Surgical I paid the extra $200 for a private suite which was worth it. I had a huge room with beautiful modern design with a private bathroom. It was amazing, I'm glad I made that choice. Also when we left the night before our departure we were at the Holiday Inn and it really wasn't the best experience. We waited in the lobby over an hour just for our room and the room was tiny. It was underwhelming since everything else was so great. I would reccomend the Casino Hotel. It's the best."
Daphne Nickson:
"Casino hotel is nice. I loved it. It was clean, the staff was nice, and food was very close. There were amazing sights. I did not like the smell of the casino lol."
Brittany Howard:
"I stayed at the holiday inn because the beach house wasn't open. It was amazing."
Jenny Hargrave:
"I stayed at the beach house and loved it."