Asian Pork Tenderloin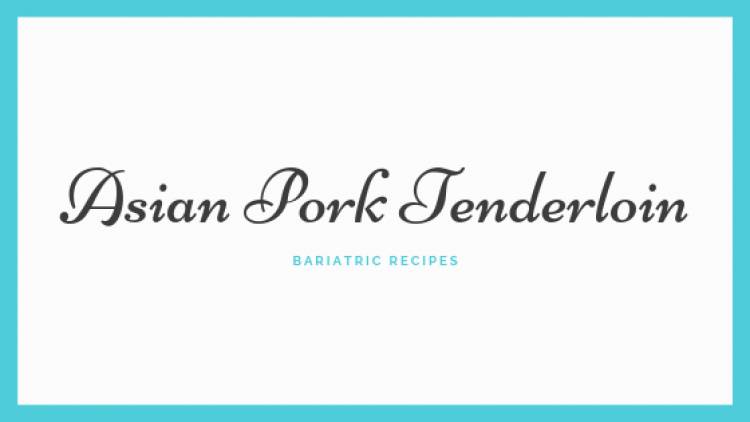 After you have your Bariatric Procedure at Pompeii Surgical, you will have to reintroduce food to your system slowly. Your portion sizes will be much smaller than they were before as well, due to the new size of your stomach and not wanting to encounter any stretching of the stomach. In order to reach your health and weight goals, the smaller portion sizes will help you lose weight quickly. It is essential to eat a variety of different foods that have nutritional value so that you are getting everything that your body needs to be healthy.
We at Pompeii Surgical are hoping to provide you with all the tools you need to help your recovery go smoothly, and to continue to be with you on your journey as you reach your new health goals. We are hoping with this section to be able to provide you with some recipes for you to try out that have been selected carefully by us, and some recommended by our patients who have personally tried them out.
We know how overwhelming the aftermath of this surgery can be, and the lifestyle change can be intimidating. We hope to make it easier and a little fun by helping out in any way we can. Rest assured that over time, this new way of eating and viewing food will become a part of your everyday routine.
It is important to eat balanced meals with small portions, follow a low-calorie diet, eat slowly, and chew your food thoroughly so your body can process it. It is helpful to keep a daily record of food portions. After surgery, it is also very imperative to drink extra water in between meals to avoid dehydration.
Do not hesitate to reach out to Pompeii Surgical with any concerns about diet or anything pertaining to your health after surgery.
Asian Pork Tenderloin
Weight Management & Bariatrics
SERVINGS: 8
INGREDIENTS
⅓ cup light soy sauce
⅓ cup brown sugar
2 tablespoons Worcestershire sauce
2 tablespoons lemon juice
2 tablespoons rice vinegar
1 tablespoon dry mustard
1 tablespoon ginger
1 ½ teaspoons pepper
4 garlic cloves or prepared minced
2 lbs pork tenderloin
DIRECTIONS
Mix ingredients together in freezer-safe bag.
Place tenderloin in freezer bag and rub marinade on pork.
Refrigerate overnight or place in freezer for future use.
Bake for 30-40 minutes at 375º F degrees OR prepare in slow cooker on low for 4-6 hours.
NUTRITIONAL ANALYSIS PER SERVING
Serving Size: About 4 ounces
Calories: 256
Total Fat: 9g
Total Carbohydrates: 9g
Dietary Fiber: 0g
Sugars: 8g
Sodium: 658 mg
Total Protein: 34g
RECOMMENDATION
Some patients have difficulty tolerating dense meats like beef and pork after surgery. You may tolerate these meats when they are cooked slowly and in a moist cooking source like a slow cooker. You can serve this pork with a side of cooked vegetables. Try cooked cabbage with Asian seasonings.
Recipe can be found on www.froedtert.com