Ashley Lloyd's Surgery Experience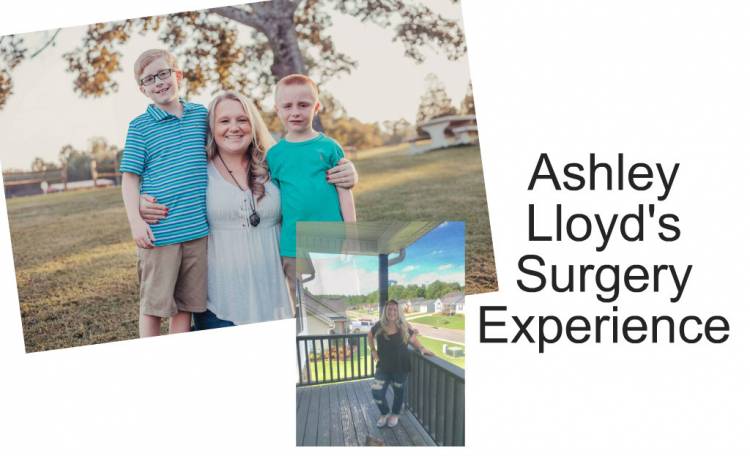 "I started researching weight loss surgery in 2017. I actually attended a seminar at a local bariatric clinic and then found out that my insurance did not cover any type of weight loss surgery. I was crushed. Later in 2017, a friend of mine had the sleeve done in Mexico and was having amazing success. I asked her many questions, and she added me to the Facebook group. In 2018 I began searching for other weight loss surgery clinics in Mexico and came across Pompeii Surgical. I added myself to their Facebook Support Group, and after lurking for a few months, it just felt right. Tax time 2018 had come and gone, so I decided to use my 2019 tax return to take back my health, and that is exactly what I did."
Ashley Davis Lloyd had her Vertical sleeve gastrectomy, and Dr. Quinones did her surgery. She had a complication-free procedure and had an excellent recovery minus the plaguing gas pains.
"By 3-4 weeks post-op, I felt great! My energy levels were increasing rapidly, and I was starting to see real results."
Ashley's experience began like everyone else who decides to have their procedures done at Pompeii Surgical. Step one is to fill out the application.
"I filled out the surgery application, and about a week later I received a call from Pompeii Surgical requesting additional information regarding past abdominal surgeries I've had and about a week after providing that information I received the approval email! This was in the fall of 2018. At the beginning of February 2019, I booked my surgery for the following April, and posted in the Pompeii Surgical Facebook Group to share my excitement."
Ashley, so excited for her procedure began to post more and more in the support group and found a group of women who happened to be getting surgery the same day as her.
"I was able to meet my Sleeve Sisters, and we created a private Facebook Chat. At the end of February, I booked my non-refundable plane tickets to and from San Diego. The two-week pre-op diet began March 25th, and I will never forget that first day. I was starving, and all I wanted to do was eat everything in sight, mostly just because I couldn't."
Ashley had some slip-ups during her pre-op journey, and by no means feels she did it perfectly and by the book, but she tried her hardest and ended up losing 13 lbs in those two weeks. Then it was time to fly.
"My plane flew out of Atlanta around 8 am Monday, April 8th. It was about a 4.5-hour flight. A Pompeii Surgical driver arrived to pick me up about 30 minutes after landing, and then we were off to cross the Mexico Border. Getting into Mexico was a breeze. We arrived at Pompeii Surgical around 1 pm Pacific time, where I filled out loads of paperwork. After finishing all of the paperwork and paying for my surgery, I was taken back to my room to get settled and change into my gown. Shortly after, a couple of amazing nurses came in and started my IV, as well as fluids and some medicine. There were a couple of hiccups along the way that isn't worth going into great detail about, but at the time I was overly anxious and sleep deprived since I worked a 12-hour shift before heading to the airport. I ended up having a full blown panic attack, and the Pompeii Surgical staff was amazing. I was given medication to calm my nerves and translators and nurses were in and out of my room to check on me every half an hour. Finally, around 8 pm, I was taken back to the OR. I will never forget the anesthesiologist cracking jokes with me and telling me he was about to give me my shot of tequila in my IV. After that, they had me take deep breaths with an oxygen mask on my face, and within seconds, I was out. I do vaguely remember waking up and being helped to my room. I slept the majority of the time at the surgical center post-op."
The next day was the barium swallow test. Ashley was woken by a nurse who informed her of the plan.
"It was a pretty gross nauseating experience; however, we made it through in one piece. The rest of Tuesday for me was spent resting and sleeping. Wednesday morning, the IV and drainage tube was removed, which was a big relief. None of it was painful, and the nurses were top notch. Throughout my whole stay, they were in every 3 hours giving me meds and doing vitals. I felt very well taken care of."

Ashley made the decision to stay in the Beach House for her recovery and stayed two nights.
"It was a 40-minute journey to Rosarita Beach. It was beautiful. It felt like a mini vacation and was so relaxing. Friday at 7 am I was picked up again by Pompeii Surgical's transportation, and we headed back to the San Diego airport. Getting back into the US was definitely more complicated from the US to Mexico. I waited at the airport for about 4 hours before my flight took off back to Georgia. Overall my experience was very positive, and I would definitely recommend them to anyone."
Ashley wanted to take the time to detail the most important things she wants people to know about her experience with Pompeii Surgical and her procedure.
"I want people to know that if I can do this, so can you! It hasn't always been an easy journey, but it has been completely worth it! I'm learning more and more each and every day. I am still learning this new tummy of mine and learning my boundaries. Weight Loss Surgery is just a tool, and you have to use it correctly to be successful. No one becomes morbidly obese overnight, and the same goes for losing weight. All good things take time, hard work, and dedication. I still have a long way to go in my journey to a healthy fit life, but I am so far from where I started! Never give up on yourself. You are worth it."